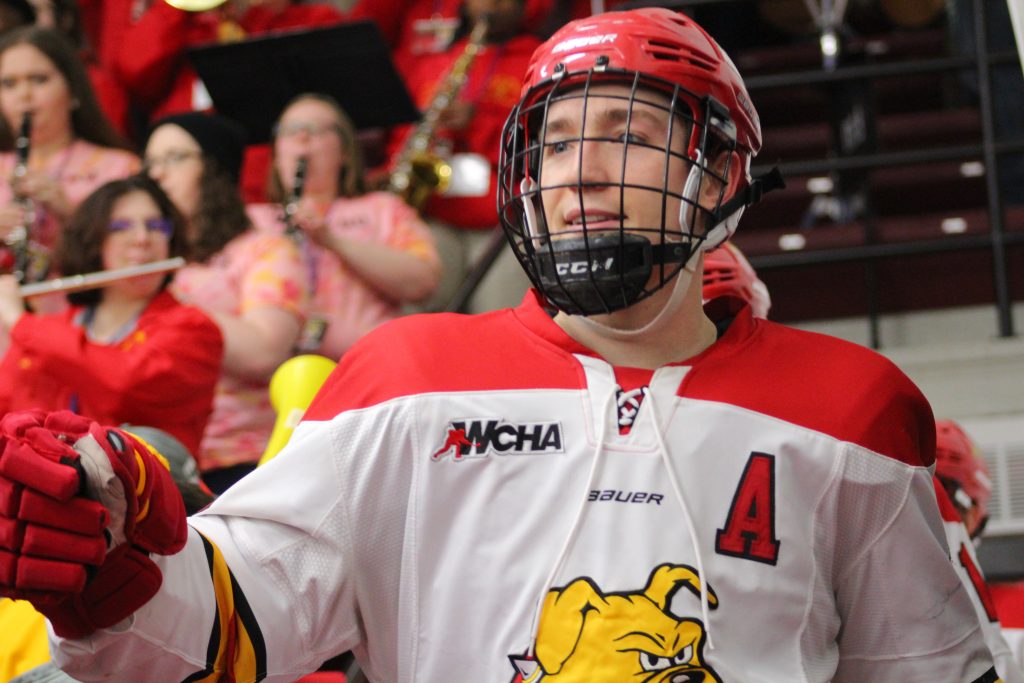 What a difference home ice can make. After losing four straight on the road, Ferris State capped off a sweep of Lake Superior State with a 4-2 victory Saturday night.
The Bulldogs (14-21-1) moved into sixth place in the Western Collegiate Hockey Association (WCHA) with the weekend sweep. With the win, the Bulldogs are now set to play the Bowling Green State Falcons in a rematch of last year's first round matchup where the Falcons swept the Bulldogs in two games.
"Well they are a good team, that's number one. That's what makes it tough when you're there on the road. Bowling Green has obviously had a good season. You got to be really disciplined, you got to have everybody on the same page, and be good defensively," head coach Bob Daniels said.
Freshman Coale Norris didn't receive the memo that it was senior night at Ewigleben Ice Arena, scoring the first two Bulldog goals on the night. His first came just a few minutes into the second period when he sent one past Lakers goaltender Mareks Mitens to tie the game at one.
Norris gave the Bulldogs a lead 7:37 into the third period when he sent one home after a pass from Trevor Recktenwald. That was Norris' tenth goal of the season, as the freshman has developed into one of the Bulldogs top players as the seasons progressed.
"I think our lines been playing well together. We work pretty hard in practice and at the end of the day that's going to translate to games," Norris said.
Lake Superior State needed a regulation victory to keep their WCHA playoff hopes alive tonight and they pressed hard on many different occasions. Ferris goaltender Darren Smith stopped 30 shots on the night, including a few breakaway chances.
Senior forward Mitch Maloney got into the groove late and does what he does best, scored on an empty-net. Maloney got goals at the 17:43 and 18:05 marks to extend the Bulldog lead to three before the Lakers dug into it late with just 26 seconds remaining.
Now the Bulldogs are headed back to Bowling Green where they will try to earn a pair of victories to advance in the WCHA playoffs.
Click here for more coverage of Ferris State hockey.