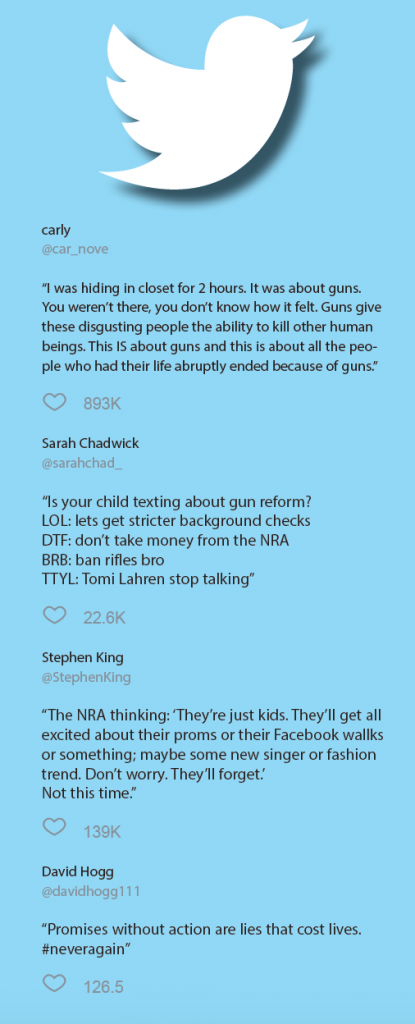 I was sitting in Starbucks at the UC when I heard the news of a mass shooting. Lying in wait, news poured out of my headphones to tell me that an active shooter was terrorizing students and faculty at Marjory Stoneman Douglas High School in Parkland, Florida.
I forgot about homework and I neglected my coffee as my stomach dropped at what I was seeing. Twitter accounts of students trapped inside the school showed videos of dead and bloodied children. The reality of bullet holes in classroom computers sunk in as viewers saw the death toll rising overnight. Like some people living in the U.S., I don't find myself as surprised as I used to be about mass shootings. That's a big problem.
You know what else is a huge problem right now? Adults harassing teenagers on social media who are speaking out about their experience and pushing lawmakers to enact stricter gun laws. I am so angry that this is even an issue these teens are dealing with. Attacks from groups trying to discredit these students' validity are shameful.
A lot of discussions about national tragedy unfold on Twitter and Facebook. Why are people disrespecting these survivors because they are young? Age does not supersede what they went through or invalidate their trauma.
Conservative political commentator and author Dinesh D'Souza mocked affected high school students on Twitter by saying, "Worst news since their parents told them to get summer jobs." Donald Trump Jr. even liked two tweets that suggested David Hogg, a survivor, was "running cover" for his dad, who is apparently a former FBI agent.
Calling teenagers "crisis actors" to support some sort of conspiracy is wrong. Calling teenagers "desperate for attention" for staging high school walkout protests is wrong.
At CNN's town hall last week, teenagers and parents directly involved in the mass shooting questioned politicians. I was blown away by the students' hard hitting questions and determination. Unlike older generations who struggle to question the status quo, the teenagers didn't care about uncommitted answers or empty promises.
These teens are advocating for change and they aren't doing it sitting down. Survivors in Florida have already taken part in walkouts, rallies and trips to their state capitol. They are calling for a national school walkout on March 14th and a "March for Our Lives" protest in Washington D.C. on March 24.
These are not the actions of "lazy teenagers." These survivors will be able to vote in the 2020 presidential election and are fighting for their lives. We need to do our part to elevate their voices so that they have a seat at the table. It is on all of us to demand that politicians are held accountable. We have to work together to see change in the world.
Students should never feel unsafe or attend the funerals of their friends. They should never have to tweet goodbye through live shootings or text their family worrying that those will be the last words they'll ever send.
Click here for more from the Torch's Opinions section.