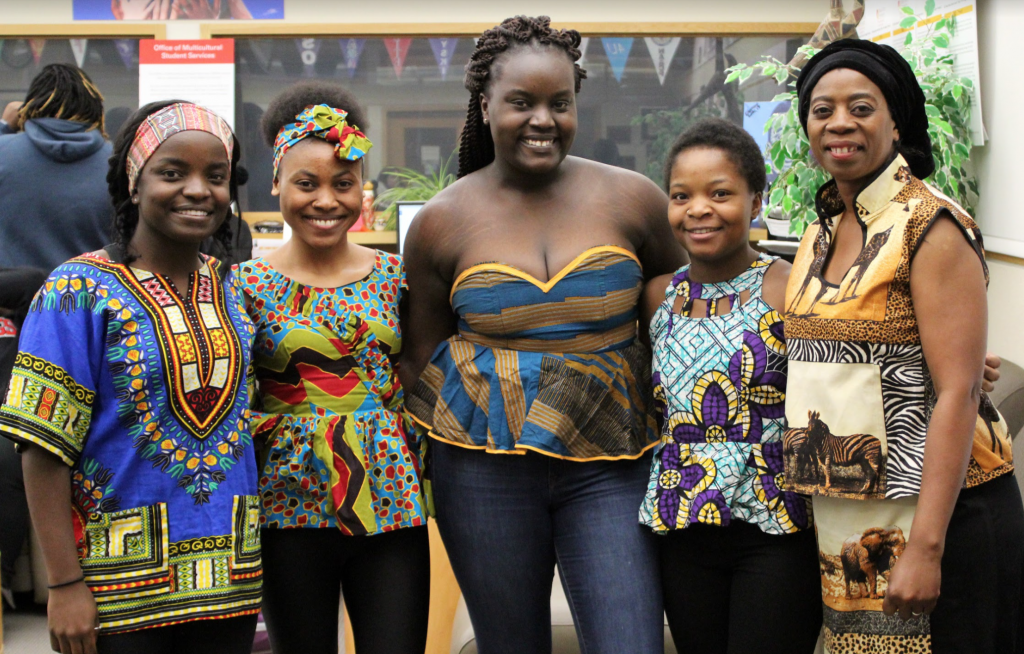 The room was alive with the sounds of laughter and friendly conversation as members of The African Student Union talked with their peers at the Represent Your Country Night Wednesday, Feb. 21.
As the presentation began, the room fell silent as students came forth, representing their country. When the presentation began to wrap up, vice president of ASU and Ferris nursing sophomore Pia Tungabose came to the center of the room to ask those in attendance where they were from.
Tungabose was born in the East African country Burundi and lived there for eight years but had to leave due to ethnic conflicts. She plans on returning after graduating.
"Our native language is Kirundi but also French, Swahili and now English are widely spoken." Tungabose said.
Tungabose notes that in Burundi, while they do wear Western clothes, they wear an African fabric called "Igitenge," which is used to cover when you are home but is also used to make dresses, pants and jackets.
While Tungabose represented her native country of Burundi, other members of ASU discussed their homes and cultures. President of ASU and Ferris social work sophomore Sifa Nyamuhungu shared her own experiences from being raised in Kenya.
"Living in Kenya was amazing. Even though my parents were refugees from Rwanda, my sister and I had a pretty normal life growing up. Most people in Kenya have one common type of clothes which is known as 'Kitenge.' Since it is more than 42 tribes in Kenya, they tend to have one type clothing that brings them together," Nyamuhungu said.
Unlike the other members of ASU, Ferris elementary education sophomore Sophie Carlson was born in Haiti before being adopted at an early age and moving to the U.S.
Reflecting on her own memories, Carlson finds that although she was from Haiti, she experienced it differently as she was a part of her own community at her orphanage.
"When I was adopted, for the longest time my mom had to stop telling my brother to put food in his pockets because that's what we used to do because we didn't know when we would be fed next. So he would stuff chicken strips and things in his pockets and my mom would put them in the washer and find shredded pieces of chicken in her wash because it took us awhile to realize that you're not going to just be fed once in that day, you're actually going to have food whenever," Carlson said.
However, she notes that despite realizing at a young age Haiti was a bit dysfunctional, while she was there she was never really upset.
"When you're living there, you don't realize there is better. So there is so many happy people and even though they live in really horrible areas, they are some of the happiest people and they are fine because they realize so long as they can have stuff that's enough," Carlson said.
Ferris heating ventilation and air conditioning freshman Majorie Banda was shocked when she initially came from Zambia to Michigan, finding the rapid change of weather surprising.
A proud Zambian, she expresses Zambia as "the real Africa."
"When you come to Zambia, you'll have seen Africa because of the natural resources in terms of wildlife, the water and also the Victoria Walls—it is one of the national wonders of the world. Come and see it, it's a beauty, especially in the rainy season. Other than that, we are blessed, after our independence we have never fought amongst ourselves, we've never had ethnic conflicts. It has been peaceful, from 1964 to date," Banda said.
ASU is a registered student organization on campus that's goal is to integrate African students into Ferris and the Big Rapids community while also informing students and the community about African cultures.
ASU meets every other week on Wednesdays and Thursdays at 7 p.m. in the OMSS office.
Click here for more from the Torch's Lifestyles section.