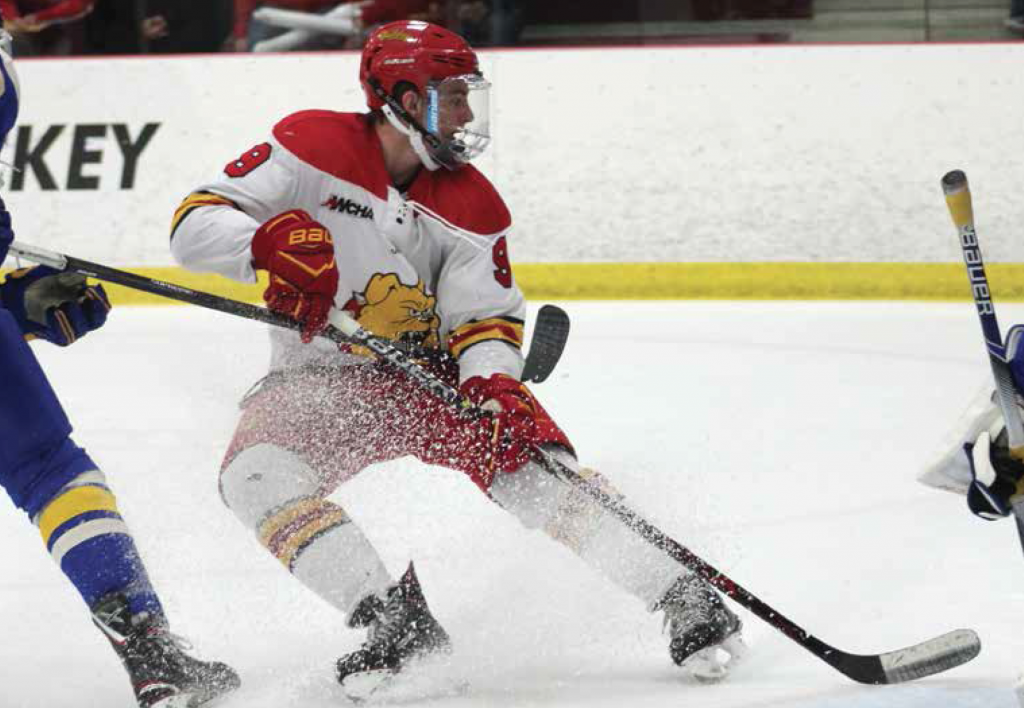 Ferris hockey can take a sigh of relief after clinching a playoff spot with a sweep of Lake Superior State University Friday, Feb. 23, and Saturday, Feb. 24.
Not only did the Bulldogs clinch a playoff spot but they moved all the way up to sixth place in the Western Collegiate Hockey Association (WCHA) after Alaska and Alabama-Huntsville failed to hold on to their spots ahead of Ferris.
The Bulldogs were in danger of missing the playoffs all together heading into the matchup with LSSU, who went into the weekend just a single point behind Ferris for the eighth and final spot in the WCHA playoffs.
"They were pretty desperate for the win. They needed that to have a shot at getting into the playoffs still, yet we needed it to move up in the standings and we wanted to climb as high as we could. I give our guys a lot of credit, I thought they played well," Ferris Head Coach Bob Daniels said.
LSSU had won four straight games and the Bulldogs were losers of four straight, before the Bulldogs got back on track Feb. 23 with a 4-1 victory. The Bulldogs kept it going on Feb. 24 with a 4-2 victory to earn the sweep.
Saturday night also recognized all seven senior members of the Bulldog team—Tyler Andrew, Drew Dorantes, Tyler Dorantes, Mitch Maloney, Andrew Mayer, Zach Szajner and Trace Pennock—for senior night in front of the crowd. All seven players were a part of the 2016 WCHA championship team.
"They are a pretty decorated group. They've won a conference championship, been to an NCAA regional tournament. They were big this weekend. They've meant a lot and they've been great Bulldogs. They're great students and they're all going to graduate on time and they're all going to be very successful when their playing days are done," Daniels said.
The Bulldogs are scheduled to play at Bowling Green State University in the first round of the WCHA playoffs in a best-of-three series in a rematch of last year's first round. The Falcons took care of Ferris last year with a two-game sweep in the opening round.
The trip might present a unique challenge for the Bulldogs as freshmen on the team have not yet played at Slater Family Ice Arena.
"I think we just have to stick to what we're doing, we're coming off some momentum here. I've never played at Bowling Green. I've heard it's a pretty good atmosphere. We're going to prep all week and be ready to roll," Ferris freshman Coale Norris said.
The Bulldogs hope to get some revenge on the Falcons in hopes of making a playoff run. With the shaky regular season, Ferris will need to win the Broadmoor trophy as WCHA champions to earn a place in the National Collegiate Athletic Association (NCAA) tournament.
In 2016, the Bulldogs went in as the fourth seed to the WCHA Final Five before upending No. 1 Minnesota State at Van Andel Arena to claim the Broadmoor trophy. That team beat St. Cloud State in the opener before losing to Denver in the NCAA West Regional Final.
"We're going to have to play Bulldog hockey. It's hard 60 minutes of getting pucks deep and to the net and working your butt off the entire game. We should be alright," Ferris goaltender Darren Smith said.
For now, the Bulldogs have their eyes set on BGSU with game one set for 8:07 p.m. Friday, March 2.
Game two will follow at 7:07 p.m. Saturday, March 3. If necessary, the two teams will battle it out in a win-or-go-home game three, which would take place at 7:07 p.m. Sunday, March 4. All games will be played at Slater Family Ice Arena in Ohio.
Click here for more coverage of Ferris State hockey.