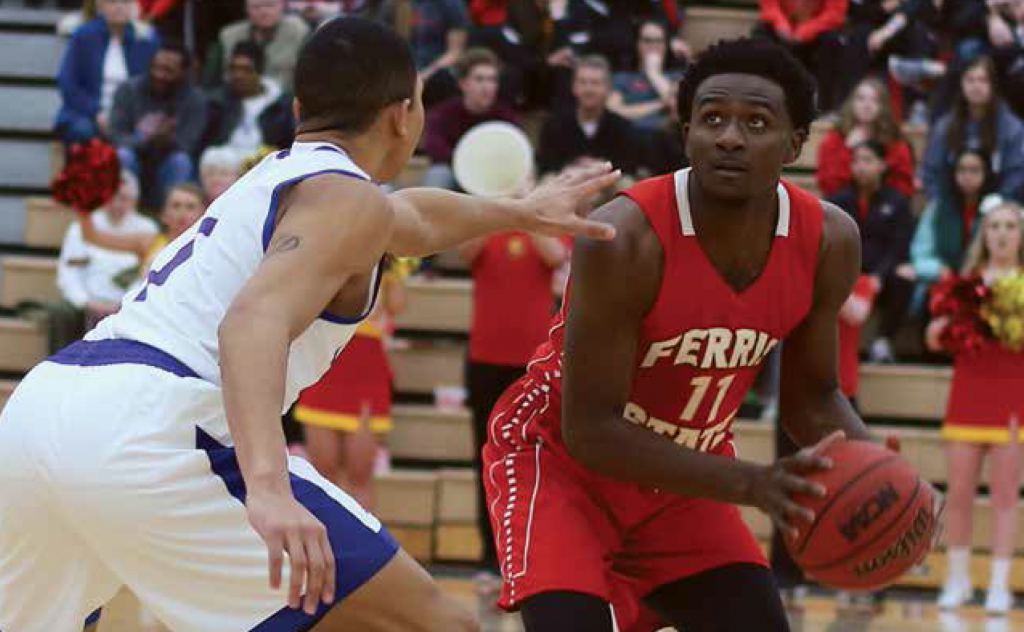 The Ferris men's basketball team completed the season sweep against archrival Grand Valley State University with a 75-64 victory Sunday, Feb. 25, inside Jim Wink Arena on Senior Day.
The contest consisted of strictly defense in the first half, which put the score at 25-23 at halftime. In the second half, the Bulldogs managed to pull away with their offensive firepower, proving why they are ranked No. 1 in total offense in the GLIAC.
Senior guard Drew Cushingberry led the team with 17 points on the afternoon and senior wing Noah King added 11 points to aid the Bulldogs.
"Getting a win over the league rival is always a good feeling and it just shows how well the team is beginning to click at the end of the season," King said.
The 29th victory for the Bulldogs, which surpassed the 28 wins from a year ago, set a new school record for most wins in school history.
The team honored their five respected seniors immediately after the game, which consisted of Cushingberry, King, Peter Firlik, TyQuone Greer and Greg Krusniak.
"The seniors are our brothers and it's going to feel weird without them next year," Ferris sophomore guard Greg Williams said. "I can't wait to have them lead us as far as we can go this year and enjoy the ride and enjoy playing these last games with them."
The Bulldogs became the first team to finish with 19 league victories in the history of the GLIAC North division.
"I will always take away the brotherhood that I have developed with each of my teammates through basketball," Cushingberry said. "They are going to be my brothers for the rest of my life. The amount of time we spend on a daily basis on and off the court will be missed the most. It is deeper than basketball."
The team finished the season with a 29-1 overall record and a staggering 19-1 record in the GLIAC.
The squad has also currently won 17 straight games heading into postseason play in March and has won 22 straight home games.
The seniors for the Bulldogs have won three straight GLIAC Tournament Championships and two consecutive regular season championships.
"The one thing I will take away from my time at Ferris basketball will be the relationships I built with my teammates," King said.
The team will be looking for their fourth straight GLIAC Tournament Championship on Wednesday, Feb. 28, as the No. 1 seed Bulldogs host the No. 8 seed Saginaw Valley State Cardinals at 7 p.m. inside Jim Wink Arena.
Click here for more coverage of Ferris State basketball.