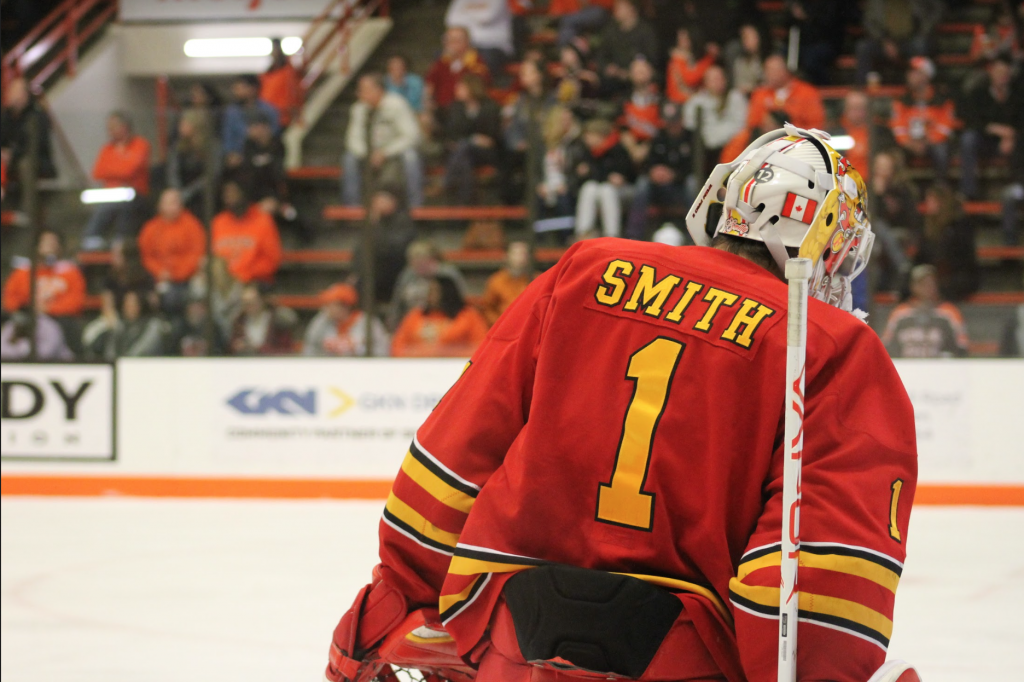 BOWLING GREEN, OHIO — Nothing has changed.
The Bulldogs, who fell in Game 1 of Western Collegiate Hockey Association (WCHA) playoffs Friday night 2-1 in overtime, still need to win two games to earn a spot in the WCHA semi-finals. They knew that yesterday, they know that now.
One thing most of them didn't know heading into Friday's game was that junior goaltender Darren Smith was going to stop 62 shots on the night to break an almost 30-year old school record (Marc Felicio 61-saves on March 4,1988). Almost everyone except one man, Smith.
After one of the best goaltending performances we've seen in a while last weekend against Lake Superior State, Smith was robbed of WCHA honors. I don't think he cares. Forget about the honors, he's playing for something bigger. Smith is trying to will this team back where he took them his freshman campaign, a WCHA championship.
Dating back to last weekend, Smith has stopped 124 of 129 shots. That's good for a .961 save percentage. Take a bow big fella.
Smith's 62 saves Friday night were nothing short of remarkable. Countless times, Smith stole the breath out of Slater Family Ice Arena as he came up with one spectacular save after another. It didn't just rattle the fans, who sat desperately waiting for a mistake, it rattled the players.
Bowling Green's Mitch McLain, one of college hockey's top goal scorers, slipped a word late in the third period that echoed throughout the building known for its cinder blocks and tin can ceiling. A word synonymous for the frustration Falcon shooters felt.
As Smith continued to chisel his playoff legacy out at one end, Ryan Bednard remained composed at the other, doing just enough to give the Falcons a chance. Bednard wasn't amazing, but he didn't have to be. That was Smith's job. And boy does Smith ever deserve a raise.
One thing is for sure, there is one man in that Bulldog locker room right now that deserves a win more than anyone in college hockey. His team needs to go out tonight and play the best 60-minutes of their lives. Not for themselves, but for the man in net. The man whose performance warranted a win last night.
I'll tell you this, if this series extends to Sunday and Smith has enough gas in the tank, I like the Bulldogs' chances. Because he is on a mission, a mission I haven't seen from a goaltender in quite some time. Forget about WCHA honors, go get this man a championship, or else he might just have to do it himself.
Click here for more coverage of Ferris State hockey.