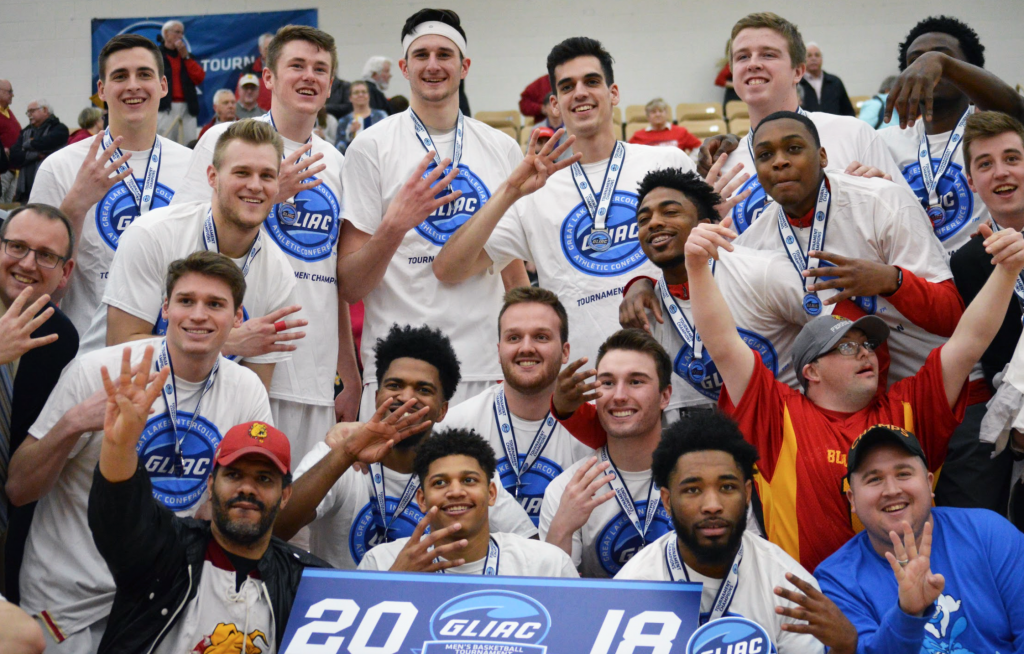 For the fourth consecutive year, the Ferris men's basketball team is Great Lakes Intercollegiate Athletic Conference (GLIAC) Tournament champions.
The No. 1 Bulldogs emerged with a 69-61 victory over the No. 2 Lake Superior State University (LSSU) Lakers Sunday, March 4, in a battle of the top two teams in the GLIAC.
Ferris struggled yet again in the first half of the contest, turning the ball over 12 times and trailing the Lakers for the first five minutes of play. The offense found its momentum however, leading the Lakers 38-27 heading into half.
The Dawgs re-entered Jim Wink Arena with fire in their eyes as they defeated LSSU in a defensive matchup, recording six blocks and five steals as a team in the second half.
Junior center Zach Hankins had another great game, posting a double-double with 13 points and 13 rebounds, also adding four assists and three blocks. Senior guard Noah King built off of his impressive performance in the GLIAC semi-finals, scoring 12 points and adding three steals.
Redshirt freshman wing Jaylin McFadden provided a valuable contribution off the bench, posting 10 points for the Dawgs.
With the victory, Ferris improved to 32-1 on the season, with their only loss coming early in the season to the Lakers.
The Bulldogs have now earned an automatic bid in the NCAA Division II playoffs with their championship win and will look to make a deep playoff run.
The NCAA will reveal the 2018 Division II playoff bracket at 10:30 p.m. EST (Eastern Standard Time) tonight. The Bulldogs first matchup is set for Saturday, March 10.
Click here for more coverage of Ferris State basketball.