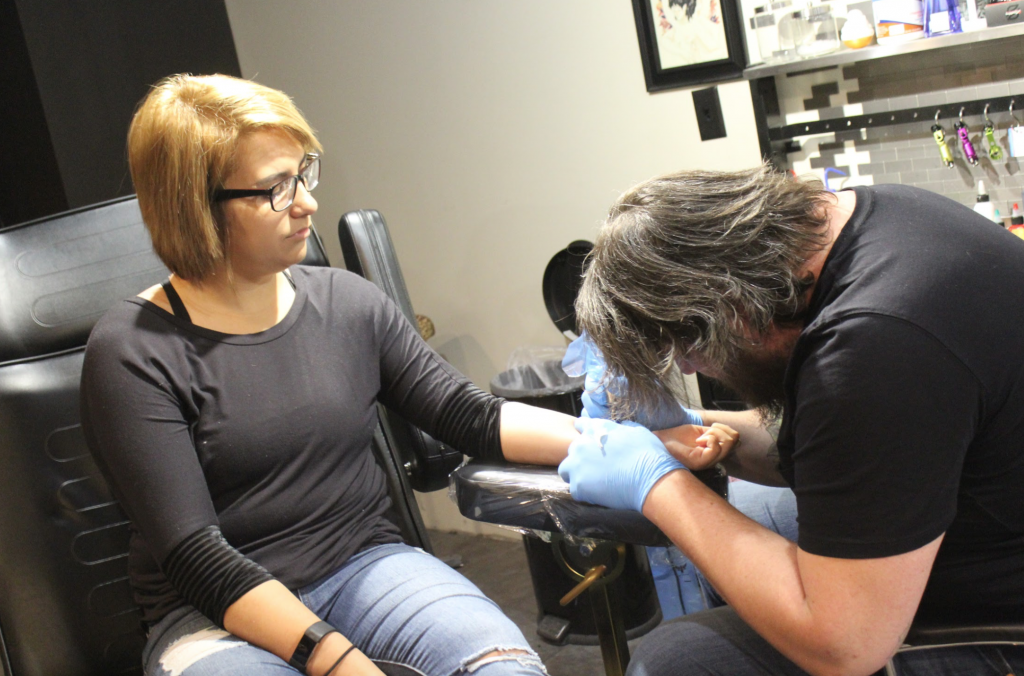 Lighttouch Tattoo is offering discounts to show their support for suicide awareness.
On March 15, Lighttouch Tattoo offered $30 semicolon tattoos and $25 semicolon piercings all day long. Lighttouch donated 100 percent of the earnings from the event—including tips—to West Michigan Survivors of Suicide (WMSOS). The total donation was $7,150.
The semicolon has become a universal symbol for suicide awareness. According to suicide awareness and prevention website Project Semicolon, "A semicolon is used when an author could've chosen to end their sentence but chose not to. The author is you and the sentence is your life."
"We started to notice that a lot of people around here have been affected by suicide. We felt like we wanted to help out the community and we weren't sure exactly what to do," Lighttouch Tattoo owner Jesse James said. "We really wanted to make sure that we were doing something local, so we did our research and found that there is a place locally that can help people out, so we're doing that."
According to their website, WMSOS meets in Big Rapids twice a month and works to create a safe environment for people to talk about suicide as well as help people who are impacted by suicide.
"Events like this are important because there are so many people out there that are plagued with thoughts of suicide daily, on top of whatever other mental health issues they may be going through. Events like this can send a message to these people. They aren't alone and the help they need is out there," Ferris digital animation and game design senior Hannah Mulkey said. "The fact that the proceeds also go to a charity for suicide prevention is amazing and I have an even higher respect for the employees of Lighttouch."
James said that, while this is the first charity event that Lighttouch has done, events they have held in the past have had massive turnouts and that they're expecting this event to be equally as busy. He also added that they're not doing appointments for the event so all tattoos and piercings will be on a walk-in basis.
"I would say show up as soon as you can and stick around until you actually get in. It may be a little bit of a wait, we're not really sure yet but it will be worth it," James said.
Click here for more from the Torch's News section.