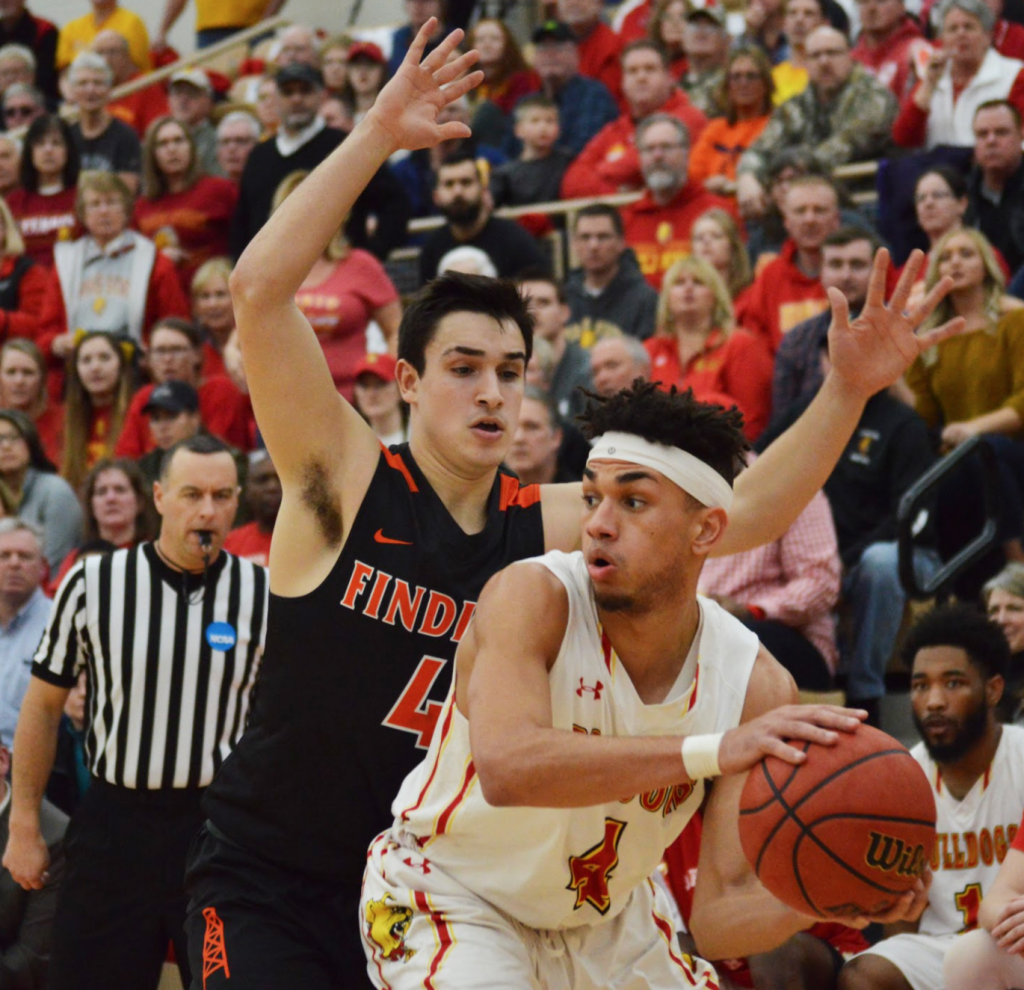 An incredible journey continues for the Ferris men's basketball team after being crowned the 2018 NCAA Div. 2 Midwest Regional Champions on their home floor. It was an exciting 80-65 victory over the Findlay Oilers on Tuesday, March 13, before a sellout crowd of 2,434 fans at FSU's Jim Wink Arena.
"It was something I haven't seen before, the energy and the excitement from the crowd," junior center Zach Hankins said. "Whenever there was a big play or something they would just get lit up, it was so much fun to feed off that and feed into that."
Hankins earned Most Valuable Player honors in the GLIAC Tournament this year after leading the Bulldogs to three-straight home wins and being crowned league tournament champs.
With the win, the Ferris squad will advance to the NCAA Div. 2 Elite Eight in Sioux Falls, South Dakota, as the No. 1 overall seed and face No. Barry 8 on Tuesday, March 20, at 3:30 p.m.
Tuesday's matchup will represent the Bulldogs' first-ever meeting against the Barry Buccaneers. The team has compiled a 23-8 overall record to date this year and went 14-6 in Sunshine State Conference action. They claimed the South Region Championship by defeating Eckerd 79-72 in the title game. Senior guard Elvar Fridriksson is averaging a team-high 19.9 points per game for a team averaging 88.1 points per game.
This year, Ferris also set a new school record with 35 wins to date, which tops the previous record of 28 victories set only a year ago. This year's 19-1 league record was the best conference mark in school history. Over the last four seasons, the Bulldogs have compiled a 110-25 overall record, which represents the greatest stretch in school history.
Senior guard Drew Cushingberry played his very last game on his home court while posting a game-high 21 points in the matchup against the Oilers. Cushingberry earned Midwest Regional Most Outstanding Player honors in leading the Bulldogs to the win.
"It's crazy just to think about that," said Cushingberry. "Playing in this gym, in that environment with all these people behind us, friends and family, I mean it's crazy. I loved every minute of it and it's always great to win your last home game ever."
Click here for more coverage of Ferris State basketball.