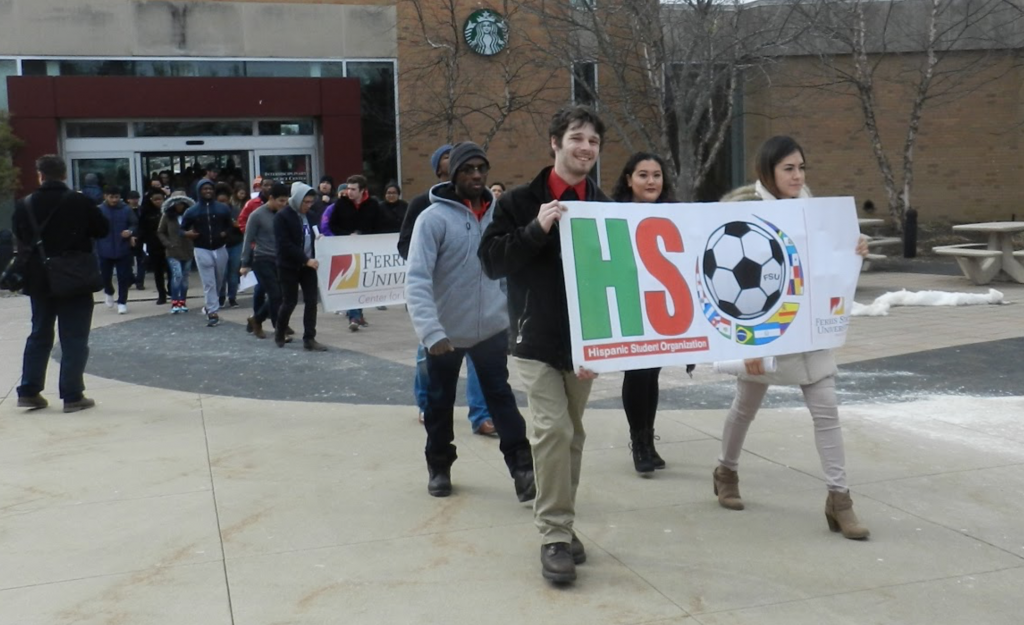 Activism takes many shapes and sizes and to Eduardo Chavez, anyone can be an activist.
In the IRC on March 13, Chavez joined Ferris students, staff and faculty in the first ever Cesar Chavez March in Big Rapids.
Chavez, an actor, filmmaker and the grandson of Cesar Chavez, came to Ferris with the objective of inspiring students to become activists.
"It's a new experience. I'm learning everyday about what it means to be an activist and really it's a term that's thrown around a lot—really anybody can be an activist, it's just about speaking up on issues that you're passionate about," Chavez said.
Chavez first arrived on campus March 12 to screen his film "Hailing Cesar" in the University Center in a setting where students could openly ask questions.
"So my film that I made—documentary—has, I feel, a lot of potential for an educational setting. The film target audience is really young people—young people who are trying to find their identity or trying to find what meaning they can get from helping others," Chavez said. "So I decided to reach out to Ferris and I got in touch with Kaylee Moreno—who is the head of the Center for Latin@ Studies—and then she put the event together yesterday for the film and then it just happened to be today that was the first Cesar Chavez March."
While the timing may have been coincidental, Chavez was the first of many speakers at the event and he also took part in the march that started at the IRC and looped around FLITE. Dozens of marchers could be heard singing songs in Spanish as they trekked along.
Since Chavez was only a year and a half old when his grandfather died, he does not have any personal memories. However, the activist believes that his grandfather's story should be passed along to inspire younger generations of activists.
"I do have some stories that I've heard from my father and the first one that I can tell you is about when my grandfather first started to try and organize farm workers and start a farm worker union. He told his kids to basically leaflet and put posters all around the town where they were from, saying that there was going to be a farm worker union that's going to be created and the meeting started at six," Chavez said.
The first meeting planned by Cesar Chavez was a bust if there ever was one.
"My dad and his father were there and by 7 p.m., nobody showed up. By 8 p.m., nobody showed up and at 9 o'clock they left. No one came to the first meeting and this happened for weeks and months until there was any traction and my grandfather wasn't discouraged, he just kept fighting for this cause that he really believed in and, yeah, the rest is history," Chavez said.
Chavez hopes that his grandfather's struggles will demonstrate to young activists that success does not come easily.
"It took many years of struggling and of really getting nowhere before it actually took off," Chavez said.
Students who missed the event or who want to know about the Chavez family can go to hailingcesar.com to learn more.
Click here for more from the Torch's News section.