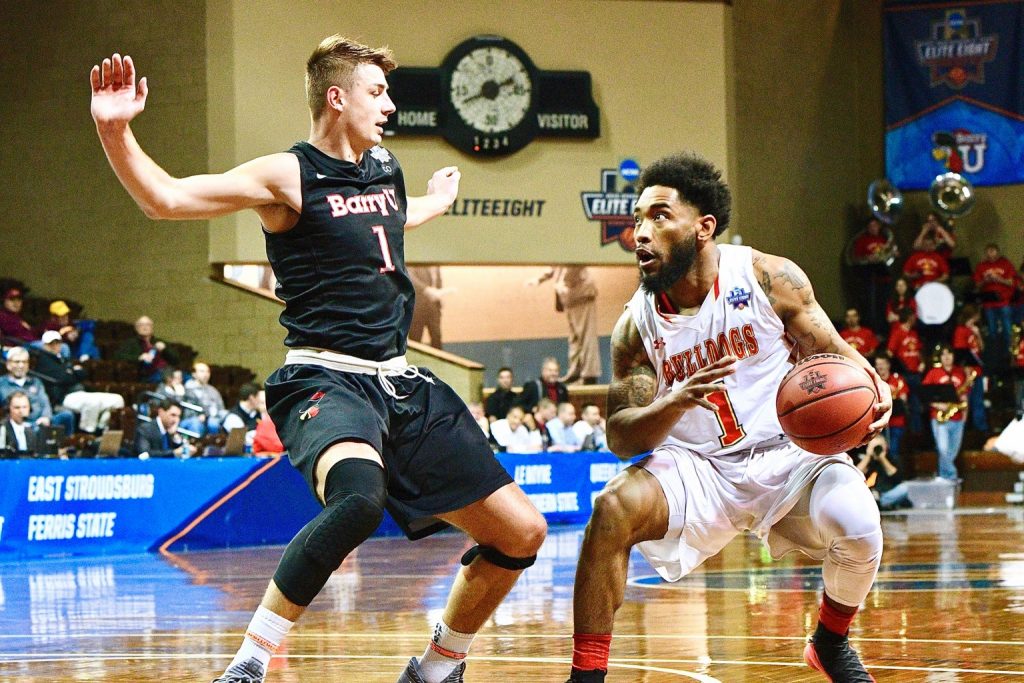 Four teams are currently riding high on incredible basketball tournament runs. That field will soon be whittled to two and the No. 1 Bulldogs are looking to make sure they make the cut by going through No. 4 West Texas A&M.
West Texas A&M is coming off a 32-3 season, Lone Star Conference Regular Season and Tournament Championships and most recently, an 87-73 win over Le Moyne (Syracuse, New York) in the Elite Eight.
"What an unbelievable team West Texas A&M is with their ability to make shots tonight. They're a very physical team with a low post presence and very well coached," Le Moyne Head Coach Patrick Beilein said after his team's loss on Tuesday, March 20. "They're a very good team that I think can go on to win it all."
If the Bulldogs are going to keep their championship aspirations alive, they'll first need to battle past the Buffaloes in the Final Four. Here are three keys that may lead to a Bulldogs victory:
1. Defending downtown
Much of the offense runs through West Texas A&M senior point guard David Chavlovich who leads the team both in points with 20.4 per game and in assists with 5.3 per game.
"Their point guard is their leading scorer. He's a very aggressive player and very talented and he's going to make some shots that we're not going to be able to defend. We're going to have to put that behind us in our mind and keep fighting to try to slow him down," Head Coach Andy Bronkema said.
The Bulldogs can afford a few buckets from Chavlovich but only if they're able to cool down the Buffs' perimeter shooters. The Buffaloes field the No. 6 offense in the country overall by putting up 88.7 points per game. They also nearly double their opponents' three-pointers made per game, averaging 11.7 while surrendering 6.5 to opposing teams.
"A&M have a lot of great shooters. One of the main focuses is limiting the amount of threes we allow them to take. We've played against similar teams and have done well with the same game plan so we have some confidence in our preparation," Hankins said.
The Bulldogs are allowing a 36 percent completion from three-point range to opponents. Protecting the perimeter and forcing West Texas A&M's smaller guards to drive into the post should help the Dawgs stymie the Buffs' offense.
2. Pushing the tempo
"Our pace of play can help us out a lot. They tend to try to slow the game down while we enjoy speeding it up," Hankins said.
Although the Buffs play at a slower pace, they commit more turnovers than the high-tempo Bulldogs. Ferris boasts the No. 4 best turnover to assist ratio in the country while West Texas A&M clocks in at No. 45. Continuing to take care of the ball while playing aggressive on-ball defense to generate turnovers will be key to the Bulldogs' success.
3. Battle on the boards
The Buffaloes' tallest player is 6-foot-7 freshman Gaige Prim, so the Bulldogs will have a slight height advantage under the basket.
"Even though they aren't the tallest team out there, they definitely aren't small. They have some big bodies that can be tough to play with but our size will give us some advantage on the rebounds as long as we play hard," Hankins said.
Hankins and Quaid both pull down 9.8 rebounds per game, which leaves them tied as the 27th best rebounder in the country. Though Hankins is unlikely to match up on Quaid during the game, the way that battle on the boards plays out will likely take a big role in the final outcome.
"I'm going to take it as a challenge," Hankins said. "I take a lot of pride in out-rebounding opponents."
The Bulldogs will tip-off against the Buffaloes in their Final Four matchup 7 p.m. Thursday, March 22, in Sioux Falls, South Dakota.
Click here for more coverage of the NCAA Div. 2 Tournament.