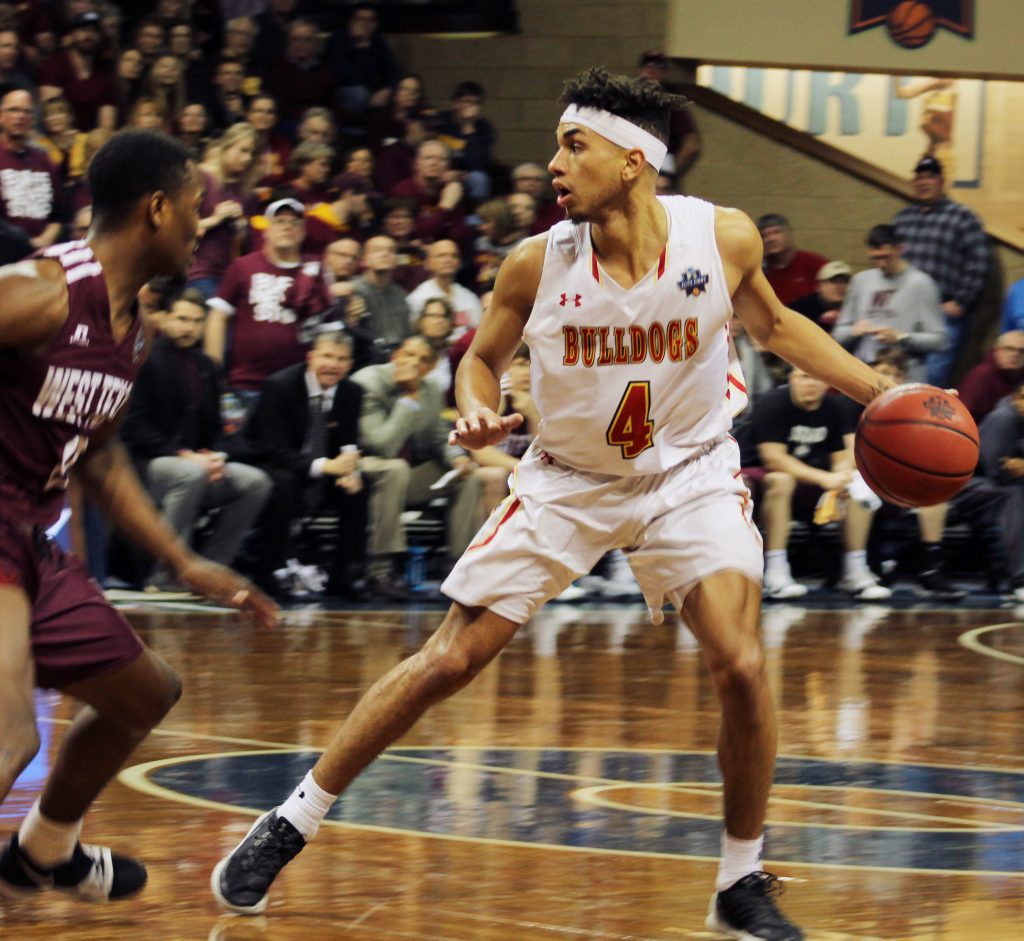 The Ferris men's basketball team is heading into uncharted waters Saturday, March 24, as they will play in their first ever national championship game. Below are players from both the Bulldogs and Wolves that could play a big factor in handing their team the hardware.
Ferris State University:
Senior guard Drew Cushingberry (6'3″) – As we saw in the semi-finals, Cushingberry is the floor general for this Bulldogs' offense. When Cushingberry hits a few shots early, he tends to heat upwhich is exactly what happened in his 16-point performance against West Texas A&M. With Zach Hankins drawing a lot of attention in the paint, Cushingberry should have a hay day from the free-throw line and beyond.
Senior guard Peter Firlik (6'3″) – An unsung hero for the Dawgs, Firlik tends to put up big points in a quiet fashion. Averaging 8.8 points per game this year, Firlik out-did himself with a 12-point performance. Known for his ability to anchor the Ferris defense, Firlik will need to be active on both sides of the court. Most effective when coming off a screen set up by his big men, expect to see Firlik drive the lane and seek out contact to give his team an edge.
Junior center Zach Hankins (6'10") – A player who draws a lot of attention due to his size, Hankins will again see double teams when the ball is in his hands. The key for Hankins here is going to be second chance opportunities. If Hankins can grab offensive rebounds as he has all year (3.4 per game) and finish them with an easy hook shot or create some contact down low, the Bulldogs can slowly wear down the Wolves.
Wild Cards:
Sophomore center Cole Walker (6'8″) – Walker is a vital role player for the Dawgs. When Hankins needs a break or exits due to foul trouble, Walker is the one who replaces him. If Walker can pull in a few rebounds and add some points to the board, it could help Ferris maintain an edge.
Sophomore guard D'Angelo Hughes (6'0″) – To say Hughes has been quiet this season would be an understatement as he averages just 2.8 points per game. Yet he found himself making two huge shots for Ferris in the national spotlight. If Hughes can make a few big shots in his limited minutes off the bench, it could be big for the Dawgs.
Northern State University:
Redshirt junior guard Ian Smith (5'10") – Smith, the Wolves' equivalent to Cushingberry, is a very effective distributor of the basketball. After finishing his semi-final night with seven assists and 22 points, it's clear that he's the centerpiece for a balanced Northern State attack. The key for Smith is going to be his speed. A bit undersized compared to Cushingberry, Smith is going to need to turn on the afterburners and make his way to the paint.
Redshirt senior guard Darin Peterka (6'4″) – Another guard for the Wolves, Peterka is an effective scorer from beyond the arc. Going 4-8 from the 3-point line in his team's semi-final victory, Peterka is dangerous if he gets a look from outside. With Smith dishing the ball around, Peterka will need to make the most of any look he gets.
Redshirt senior guard DJ Pollard (6'4″) – Yet another guard, the Wolves will look to Pollard in pressure situations. Pollard thrives when the game is on the line, making him the go-to man at the buzzer and when the Wolves are looking for a lead change. Keep your eye on him when the game is winding down and both teams are looking for a big play.
Wild Cards:
Senior center Carter Evans (6'10") – Evans is the only player on Northern State that matches the size of Hankins. He won't have to score much, but if he can slow down Hankins and out-battle him under the glass, the Wolves could neutralize the Bulldogs' biggest weapon.
Senior forward Logan Doyle (6'8″) – Doyle put up 18 points in the Wolves' double OT victory over Queens (N.C.) in the semi-finals. He's got a size-advantage on most players for Ferris at his position, so his scoring presence in the paint will be interesting to watch.
Click here for more coverage of the Bulldogs' journey through the Elite Eight and beyond.