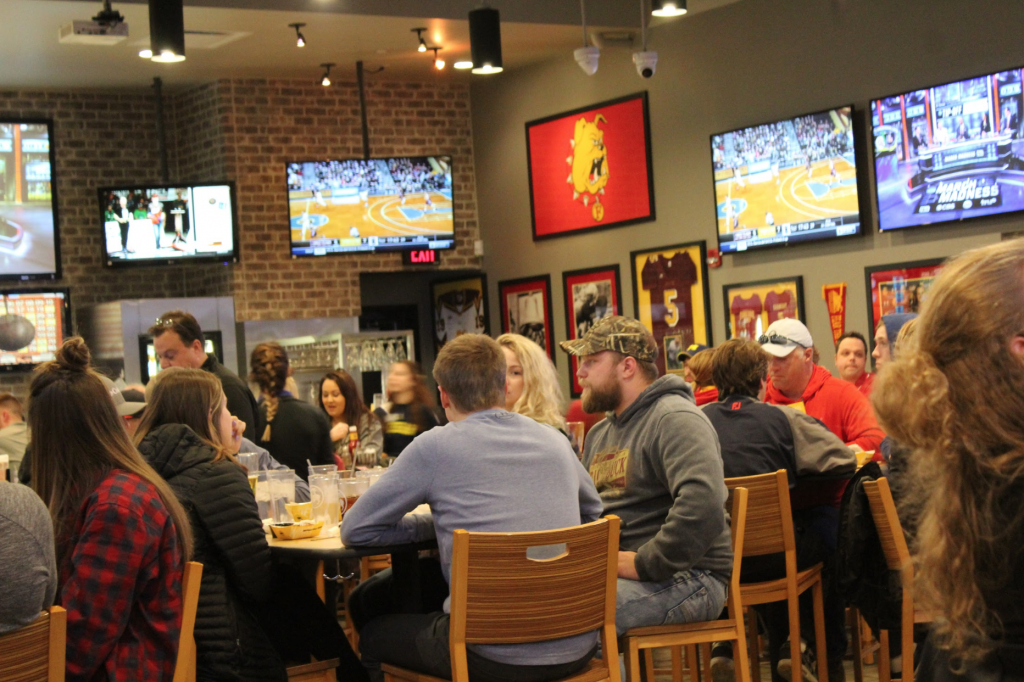 Article by: Danny Collins and Cora Hall | Torch Staff
The Big Rapids community and Ferris faithful packed the Big Rapids Buffalo Wild Wings and University Center to partake in a watch party as the Ferris men's basketball team defeated West Texas A&M 85-79 on Thursday, March 22, to advance to the NCAA Division II National Championship.
Earlier this week on Tuesday, March 20, Buffalo Wild Wings hosted a watch party for the Elite Eight matchup between FSU and Barry University.
This will be the team's first ever national championship appearance in the school's rich history and the fans at Buffalo Wild Wings knew they were witnessing history as they stuffed their faces with delicious food and watching their beloved Bulldogs dominate.
"It was cool to see Ferris students and the Big Rapids Community come together and support the team. You could just tell by listening to all the cheers from everyone in the restaurant that they played a great game," Ferris senior sports marketing major and Ferris football tight end Jacob Allan said.
Lines and lines of people began to pour into Buffalo Wild Wings nearly an hour before game time and the rush continued throughout the course of the contest.
Nearly every seat in Buffalo Wild Wings was filled with students or adults with Ferris merchandise on.
Buffalo Wild Wings is known for their quality seating and visibility of multiple televisions and virtually every television had the FSU game on them, making it an ideal place to watch the Dawgs.
With each made basket, the crowd at Buffalo Wild Wings cheered louder and louder.
"I'm a big fan of Zach Hankins. He plays really good in the post and it's awesome when he swats people," Ferris business administration freshman Jared Prevost said.
Prevost was also easily able to identify what makes this Ferris men's basketball team unique.
"I think the biggest thing is our coach's beard. It's incredible," Prevost said. "It gives our university a lot of respect, I think."
The Buffalo Wild Wings' staff did an excellent job keeping their customers happy and content with the environment in the restaurant.
"It was great seeing everyone from the community and other teams there supporting and cheering for the guys," Ferris senior marketing major Jack Weller said. "Every basket scored, the place lit up with enthusiasm and excitement."
These events provided a chance for Ferris students, fans and Big Rapids locals to watch the game together in a rowdy environment and celebrate the historic night.
The Bulldogs will square off against either second-seeded Queens (N.C.) or third-seeded Northern State on Saturday in Sioux Falls for the NCAA Division II National Championship with tip-off at 3 p.m. (ET).
The squad will be pursuing their first national title in school history.
Click here for more coverage of the Elite Eight and beyond.