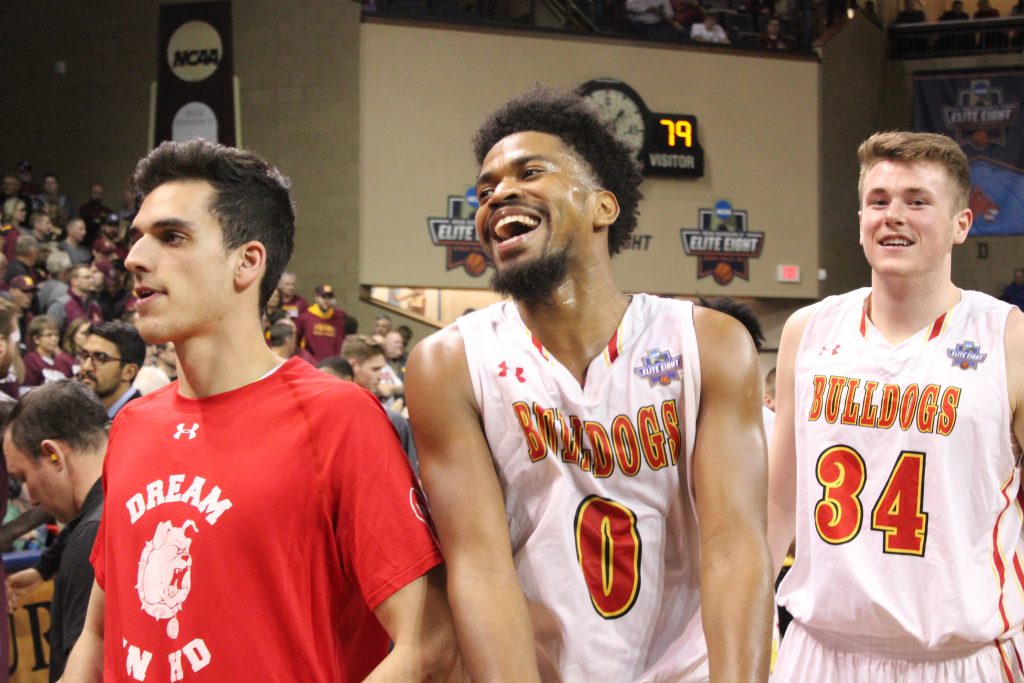 After a season full of "what ifs," the Bulldogs are playing their biggest game of the year on a national stage.
The Ferris men's basketball team defeated the West Texas A&M Buffaloes 85-79 Thursday, March 22, in a game of stamina.
"We were trying to dig our heels in and defend and wear on teams," Ferris head coach Andy Bronkema said. "It's been a focus of ours. We got our closers in there and I'm not sure it was a pretty finish but we did it."
The defense for the Dawgs was impressive in the first half, as they held the Buffaloes to just 11/31 shooting. The only one who seemed to be immune to their defense was Buffalo senior guard David Chavlovich, as he scored 14 points before the break.
The Dawgs never trailed in this contest, leading the Buffaloes by as much as 15 at one point.
"Basketball is a game of runs," Ferris senior guard Drew Cushingberry said. "We knew coming in that they were going to make a run and we had to hold off on it. We held off in the end and pulled it out."
Cushingberry came up big for the Bulldogs, posting a double-double with 16 points and 10 rebounds and adding five assists as well. Junior Center Zach Hankins also recorded a double-double with 13 points, 11 rebounds and 3 blocks.
With the latest win, Ferris extends its win streak to 25 and improves to 37-1 overall on the season.
Saturday will mark the first time in school history that the Bulldogs have played for a national championship.
"You give Ferris a lot of credit," West Texas A&M head coach Tom Brown said. "It seemed like they just kept bringing guys in and guys in but I look down at the bench and they still have six guys in their warmups. They're a very good basketball team."
The Dawgs will get a day of rest before they go to battle at 3 p.m. Saturday, March 24, from the Sanford Pentagon in Sioux Falls, South Dakota in the NCAA Division II National Championship. The opponent for that game is yet to be determined but it will either be No. 2 Queens (N.C.) or No. 3 Northern State University.
Click here for more coverage of the Elite Eight and beyond.