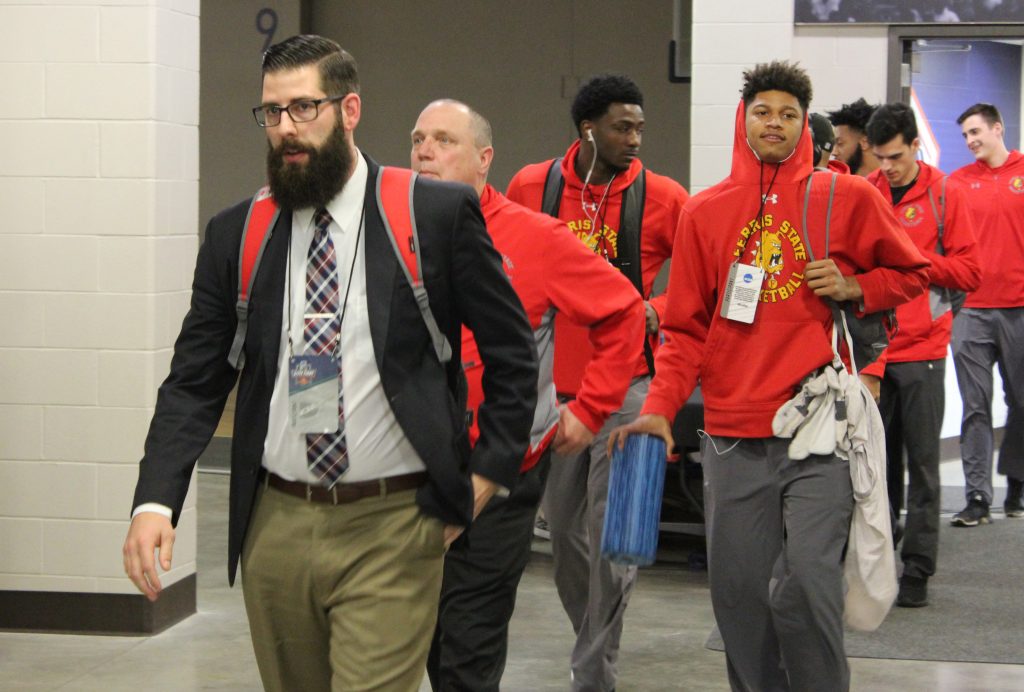 Playing in a national championship game is unprecedented territory for Ferris men's basketball but if there's one thing they know how to do this season, it's win.
Still, the Bulldogs will need to be firing on all cylinders to finish this historic season on a high note against the No. 3 Northern State Wolves.
NSU stakes the claim of 17th best defense in the country by surrendering just 66.2 points per game and slides in as the 72nd best offense with 80.2 points per game. The Wolves have not lost a game since Jan. 27 and have won both the Northern Sun Intercollegiate Conference Regular Season Championship and NSIC Tournament Championship.
Five players in Northern State's rotation post at least 9.5 points per game, so Bulldog defenders will be all hands on deck to slow down the Wolves balanced offensive attack. According to Ferris redshirt freshman guard Jaylin McFadden, the Bulldogs may have the depth to do just that.
"Me, Greg [Williams, sophomore guard], and Deshaun [Thrower, junior point guard] come off the bench and when we're on the floor we don't even care about offense, it's more about defense," McFadden said. "We're going to have to match up for sure. We're going to have to guard their bigs and can't leave their shooters open," McFadden said.
Listed below are three keys to a Bulldog victory and national championship.
1. Shutting down the crowd early
While it's officially a neutral site, the Pentagon has been packed with Wolves fans every night of the Elite Eight Tournament. Northern State is only about 200 miles away from Sioux Falls, South Dakota, making the No. 3 seed functionally the home team. Meanwhile, Ferris fans had to travel more than 800 miles to Sioux Falls.
The Bulldogs have been great at getting out to fast starts throughout the year but doing so in the finale will be imperative to quieting the Northern State crowd and controlling the game. The fact that Northern State had to go through No. 2 Queens (N.C.) in double overtime in a game that didn't end until after midnight on Thursday, March 23, should help the Dawgs early against a Wolves team with a few extra miles on the odometer.
2. Protect the perimeter
Northern State has five players in the rotation hitting at least 40 percent from downtown, including senior guard Darin Peterka who has hit 73-167 (43.7 percent) this season and is coming off a 20-point performance against Queens in the Final Four.
As a team, the Wolves hit 40.1 percent of their three-point attempts, which is good for No. 21 in the country. The Dawgs have played just one team that completes the three-ball at a higher clip than NSU in Michigan Tech, who's ranked No. 6.
Ferris defeated Michigan Tech in both meetings this season by preventing the Huskies from hitting their season average 3-point shot attempts, so they'll need to replicate that defensive effort against the Wolves.
3. Capitalize on Northern State's mistakes… because they don't make many
The Wolves turn the ball over 11.4 times per game compared to the Bulldogs' average of 11.9 and both teams boast a comparably excellent assist-turnover ratio within the top 25 in the nation.
Both teams know how to take care of the ball but the difference in this game will be which team is more able to capitalize on the few mistakes their opponent makes. Ferris senior point guard Drew Cushingberry will need to bounce back from his six-turnover performance against West Texas A&M if the Bulldogs are going to come out on top.
The Bulldogs will tipoff against Northern State in the NCAA Div. 2 National Championship Game at 3 p.m. Saturday, March 23, in Sioux Falls, South Dakota.
Click here for more coverage of the Elite Eight and beyond.