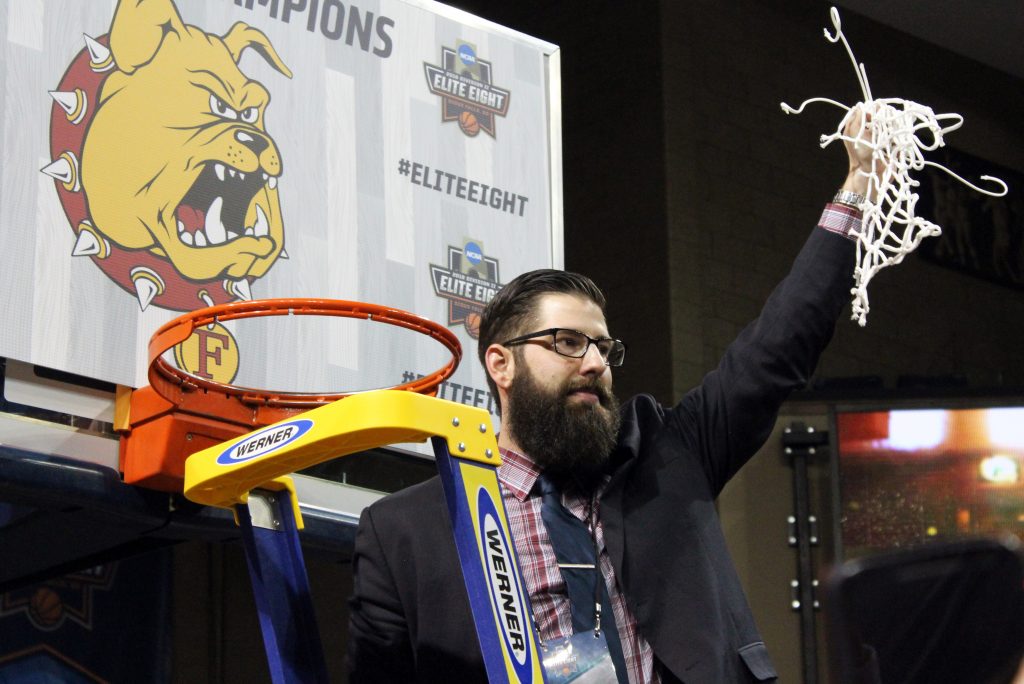 Some say it's all in the beard but the players know that their coach is the real deal.
Ferris men's basketball head coach Andy Bronkema was named the 2018 Basketball Times National Coach of the Year and after bringing home the first men's basketball national championship in school history, no one is arguing with it.
"He'll be the first to tell you that individual awards are team awards, which makes us feel good about our entire team," Ferris junior center Zach Hankins said. "But he's done so much for us and this program that I can't think of anyone more deserving."
Bronkema just ended his fifth season with the Bulldogs but his journey with Ferris has been much longer than that. Originally joining the staff as a volunteer coach, the McBain native spent six years as an assistant coach—the last three as the program's top assistant—for the men's team before his debut as head coach.
"Still pinching myself every day, you know," Bronkema said. "The way I got the job was pretty unique and all of my opportunities in my life have been pretty unique. I've got lots of people to thank and I can't even start naming names, but I'll contact them and I'll continue to let them know that what they've done for me is huge."
Along with having a historic season record of 38-1 overall and ending with a 26-game win streak, Bronkema led the team to their second consecutive Great Lakes Intercollegiate Athletic Conference (GLIAC) regular season Championship, their fourth-straight league tournament title, their second regional crown and the school's first NCAA national championship for any sport.
Ferris is the first team from Michigan to win the Division II men's basketball championship, according to the Detroit Free Press.
Both Hankins and senior point guard Drew Cushingberry said that Bronkema took a chance on recruiting them out of high school.
"I mean, he really took a chance on me coming out of high school," Cushingberry said. "Nobody really offered me, so he saw something in me that nobody else did. So I can just thank him for that. He's been the best coach I've ever had. He helped make me into the player and person I am today."
According to both players, it's bigger than the titles and the records for Bronkema. The team visited Mecosta Elementary to read to students on March 9 and even when they got to Sioux Falls, they spoke to and played games with kids from one of the local schools. Cushingberry said that it was special to be in the role that he remembers looking up to while he was growing up.
"He wants us to understand that there are a lot of things that are bigger than basketball," Hankins said. "And it's definitely a reminder to each one of us that we need to continue to act like a role model and not let any harmful distractions get in the way of what we want to do."
According to Hankins, one of the team's mantras is "person over player"–a value that Bronkema stresses to mean that the players take more pride and work harder in their relationships and character than basketball. This is a saying that Bronkema lives out himself and Cushingberry has personally experienced.
"I remember my sophomore year, when my dad was sick back home and he just called me and had me explain what was going on," Cushingberry said. "He really just understood where I was at, telling me I needed to be with him and my family and was really understanding and caring with the whole situation. It really showed how he actually cares about us as players and how it's much bigger than basketball."
Bronkema said that over his career as a coach, he's been supported by many people and grew up "dreaming about winning."
"Every step I went in my athletic career and coaching career, I've been around people that have given me permission to win and to dream big and it's just amazing–the people I've been around," Bronkema said. "And certainly, the story is not over but I'm just thankful for the opportunities that I've had."
Click here for more coverage of the Bulldogs' journey through the Elite Eight and beyond.