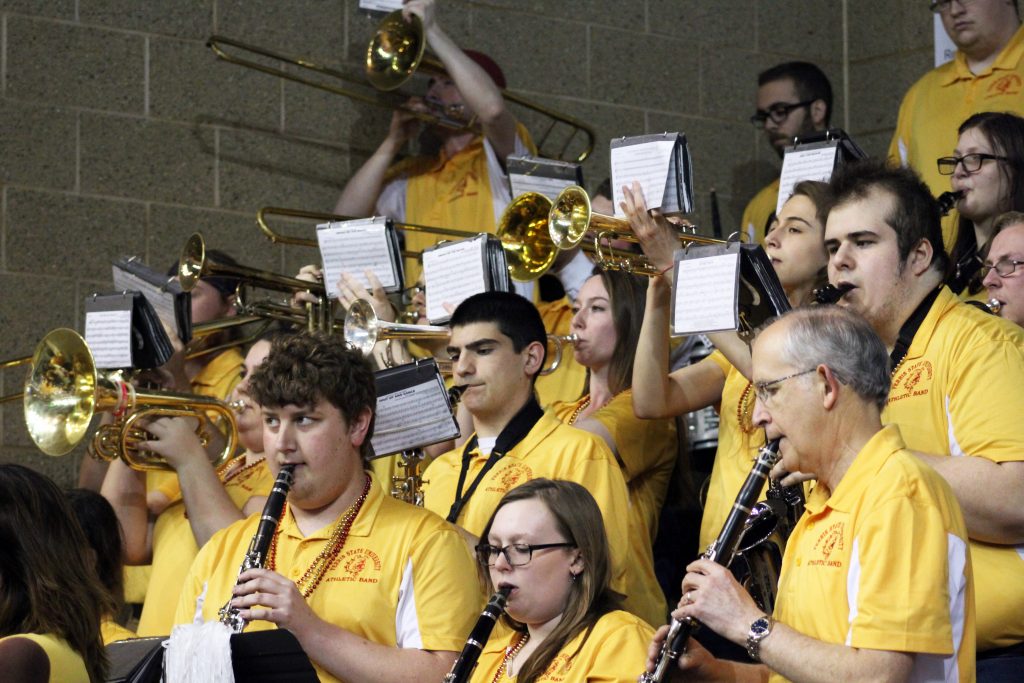 The Ferris men's basketball team aren't the only ones who have had a wild journey on their NCAA Division II National Championship run.
The Ferris pep band also made the trip to Sioux Falls, South Dakota to watch the Bulldogs compete in Elite Eight action, occupying one of the two fan buses that departed at 10 p.m. Wednesday, March 21, from Ewigleben Sports Complex.
"I absolutely love going on Fan buses," Ferris senior forensic biology major and clarinet player Renae Greenia said. "I just liked being locked up in a small place with my friends."
Greenia is a seasoned veteran when it comes to travelling with the Bulldogs, making six trips to various playoff games over her four years with the band.
Andrew Hartung, a Ferris senior in the criminal justice program, is also no stranger to travelling with the team, making multiple trips. Hartung is one of four student conductors for the band and said the Bulldogs' Final Four matchup with West Texas A&M Thursday, March 22, brought a new level of pressure he'd never experienced.
"I see a lot more than general band members do, because of the role that I have to fill," Hartung said. "It was very hectic, just because today on the headset it was myself, two contacts from the NCAA and another band. We had to communicate between all four of us to make things line up correctly."
Though the band carries plenty of experienced members that are used to playing in an intense environment, there are also some that have never played outside of a high school gymnasium.
Donovan McGinley is a Ferris pre-nursing freshman and flute player and is very new to the pep band. McGinley says home games are a cakewalk but playing on a national stage can be just as nerve-racking for him as it can for the players on the court.
"The other games this year, we sort of knew we were going to win," McGinley said. "This game was pretty close the majority of the way through. I got hoarse near the end because I was so excited, I was struggling to speak."
McGinley's excitement during the game shows just how invested members of the band can become in Ferris athletics and the players on the floor.
"I'm a lot more invested in Ferris sports," Ferris senior secondary education major Melinda Jack said. "Having been with the basketball team for four years, you get to watch them grow themselves and watch the team grow."
Click here for more coverage of the Bulldogs' journey through the Elite Eight and beyond.