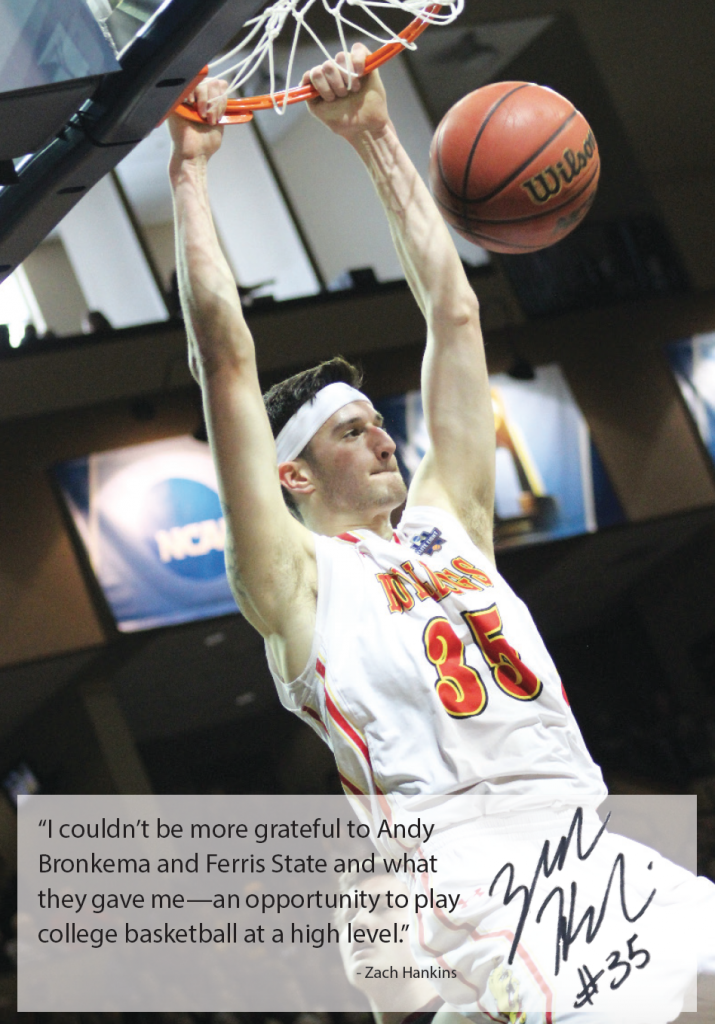 There are a lot of rarities that have happened inside the Ferris men's basketball program over the past four years, with one major rarity is junior center Zach Hankins joining the team.
Standing at 6-foot-10, Hankins is a unicorn at the Division II level with most players his height joining Division I schools. An injury to his foot during his senior season at Charlevoix High School scared some teams away but not Ferris head coach Andy Bronkema.
"He saw a 6-foot-9 kid who could run without falling over his feet all the time," Hankins said in an interview with MLive. "I couldn't be more grateful to Andy Bronkema and Ferris State and what they gave me—an opportunity to play college basketball at a high level."
Hankins isn't naive when it comes to his height and athletic ability. He knows going into each and every game that the opposing team is trying to find new ways to shut him down.
"Most teams we've played this year have taken a special interest in stopping me," Hankins said. "I wouldn't want to be guarding someone like me either but it's a fun challenge when I do. When teams make certain game plans to try and stop me, I can just take it as a challenge to still play well even with extra attention. It allows me to open the floor for my teammates to be successful as well."
Hankins is coming off an outstanding season statistically, finishing first in average rebounds per game (9.7), first in shooting percentage (63 percent) and eighth in points per game (15.1) in GLIAC play.
Stats aside, Hankins also grabbed multiple awards including three GLIAC player of the week awards, the 2018 National Association of Basketball Coaches (NABC) Division II Player of the Year award, the Associate Press' Most Outstanding Player of the 2018 NCAA Division II Tournament award and to top it all off, an NCAA Division II National Championship.
"All individual awards are just team awards," Hankins said. "Everything I've gotten this year and our team has gotten are all results of the hard work we've put in together. Having the hard work acknowledged and holding up that national trophy made every second worth it."
The Bulldogs finished their season on a school record 26-game win streak and a 38-1 overall record, which is also a first for Ferris.
After hoisting the trophy over his head at the Sanford Pentagon in Sioux Falls, South Dakota, Hankins has preparations for next year in the back of his mind.
"Every season is a new season with the new team," Hankins said.
2018 Season Stats
15.1 points per game
63 percent field goal percentage
9.7 rebounds per game
3.3 blocks per game
587 total points scored
237 total baskets made
21 double-doubles
Click here for more coverage of Ferris State basketball.