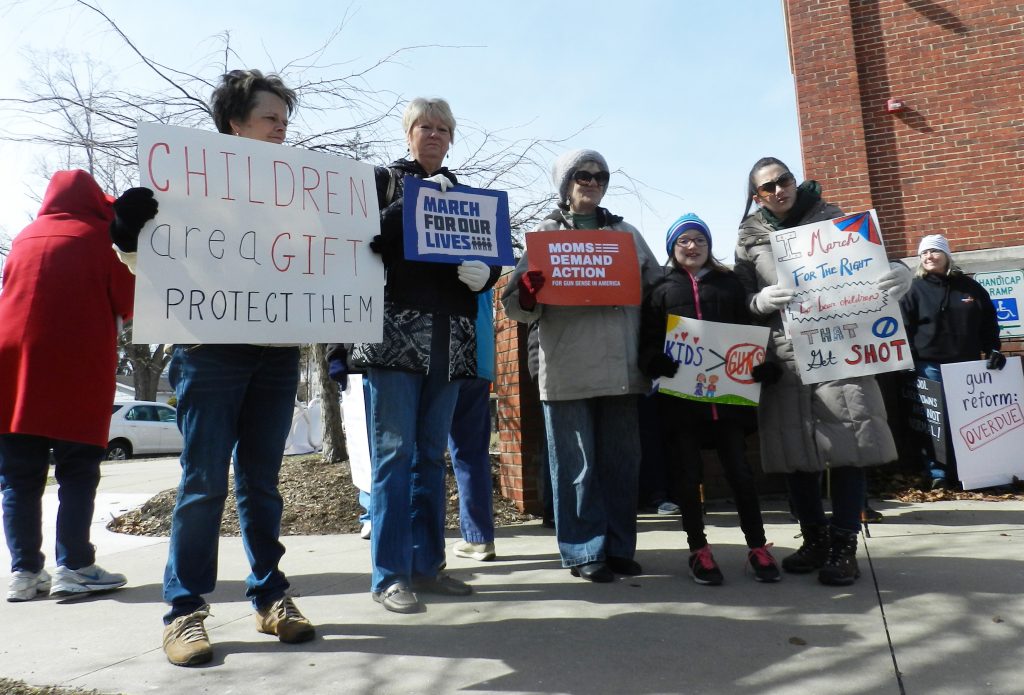 As March for Our Lives took place all over the nation, Mecosta county residents also came out to participate.
According to the official Facebook page of March for Our Lives, it is "a movement dedicated to student-led activism around ending gun violence and the epidemic of mass shootings in our schools today."
The event took place Saturday, March 24, and while around the nation the activism was mostly student-led, very few students were present at the satellite march in Big Rapids. Instead, the Big Rapids march was full of parents and grandparents of students; some even brought their small children along.
"I have kids that are in school and I also have a daughter in Florida that is about to go into the first grade," Big Rapids resident and event organizer Christopher Gillespie said. "Something needs to be done about the policies we have in place right now so that our children can be safe in school. It was a close topic to me that touched my heart."
The march started at Big Rapids Community Library and worked its way to Ferris' campus entrance in front of FLITE, where attendees held signs for traffic to see, spoke about why they were there and participated in some chants.
Future Ferris student and march attendee Elizabeth Tatum held a double-sided sign that read "I don't want to get shot at college" and on the other side it read "I vote too," which is intended to urge young adults to register to vote who are not yet registered.
"I'm here because I don't want to be afraid on campus. I don't want to have the fear that I'll get shot," Tatum said. "I hope that in this community we are able to not be afraid anymore. I think it's very important that students of all ages stand up and use their voice and raise awareness."
For many of the people in attendance, the recent school shooting in Parkland, Florida, that killed 17 people was a major reason for them to come to the march.
"What is happening in our country is wrong and it's time to stand with the kids of Parkland and say 'hey, we're not going to take it anymore,'" Stanwood resident Kathy Bell said. "We have 11 grandchildren and one on the way. Every day they go into a school and they go there to learn, and to socialize, and to grow and be nurtured. I don't want them to go into a school and be plowed down and murdered. I don't know how many people are out here, maybe 100, but when I see this kind of turnout for what has really been a controversial issue, it gives me a lot of hope."
Click here for more from the Torch's News section.