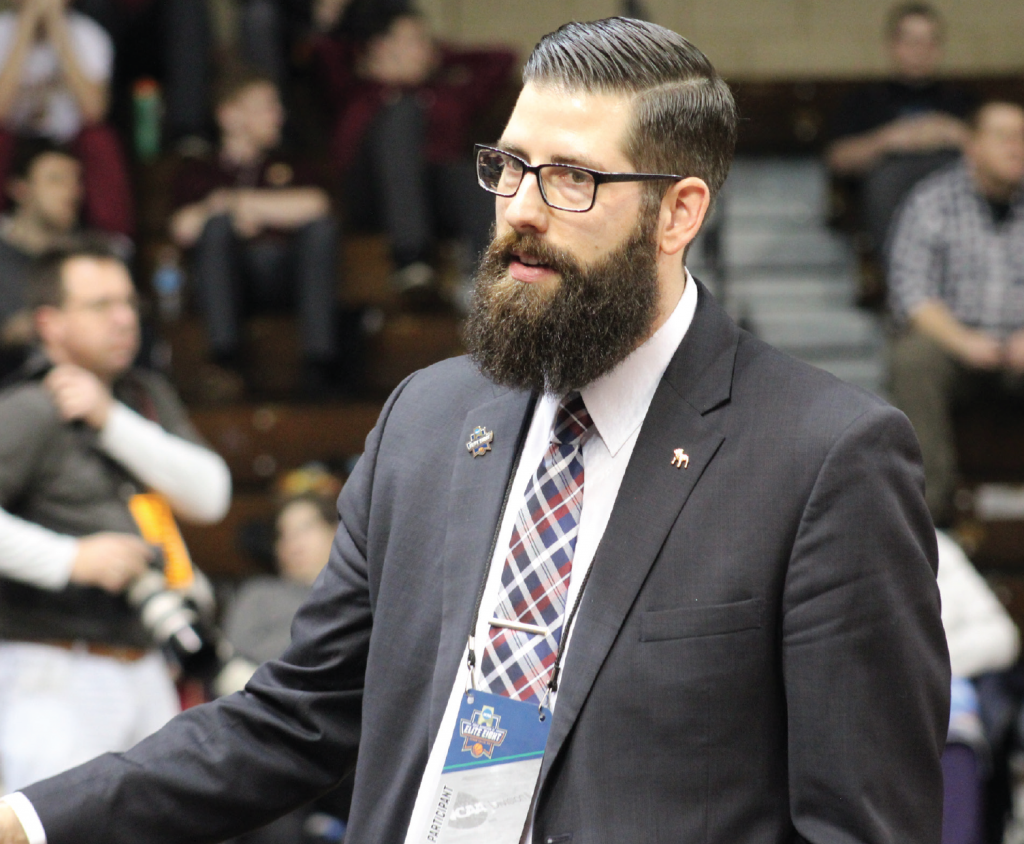 Landing a head coaching position can be difficult for some but for the family of Ferris men's basketball head coach Andy Bronkema, it seems to run in the blood.
"My dad was a coach. My parents went to every game. They supported our competitive nature. More importantly, they taught us who Jesus is and made sure we had balance," Andy said.
Andy and his brother Luke Bronkema are natives to McBain and both are living their dreams as head basketball coaches at the collegiate level. It hasn't come easy, however, as both have paid their dues to get to where they are today.
Andy is the fifth-year head coach for the national champions, Ferris men's basketball team, who has compiled a career record of 123-41 in his five years at the helm.
During his tenure, Andy has led the Bulldogs to four straight GLIAC Tournament championships, two-straight GLIAC regular season championships, a Midwest regional championship and a Division II national championship this past season.
Luke has just recently finished his second campaign as the Grand Rapids Community College Raiders basketball head coach. In two seasons, he has led the Raiders to a record of 43-22 and a National Junior College Athletic Association (NJCAA) District 9 championship in 2017-18.
As you can tell, the apple doesn't fall far from the tree in terms of success for these two brothers.
"Both Andy and I chose to pursue a degree in education with the idea of teaching and coaching after graduation. It's hard to speak for Andy but I always planned on being a high school teacher and coach," Luke said. "As the leader of our family, our father was and is a big influence on our lives in general. Throughout our childhood, his coaching and athletic director roles certainly influenced our world views and shaped the vision for our own future careers."
The two brothers faced off against one another for the first time this season in an early season exhibition matchup in Big Rapids on Oct. 28 in which the Bulldogs defeated the Raiders 103-58.
"Our family growing up was very competitive. Our dad was a coach. Our group friends loved to play all sports. So coaching was a logical option—something that evolved from the love of competition," Andy said.
The two brothers have the utmost respect for one another on and off the court as well and they have even learned new coaching strategies along the way.
Both brothers are graduates of McBain High School and Cornerstone University, where they both were student-athletes on the basketball court. The brothers enjoyed success at McBain where they won a state championship and they also made the national tournament every season at Cornerstone.
Success is something that has been molded into these two men at a young age and they have continued their hard work, dedication and persistence to get to where they are today.
Andy Bronkema has established a championship culture at FSU and you can tell that Luke is not far behind from doing that with the GRCC Raiders.
Click here for more coverage of Ferris State basketball.