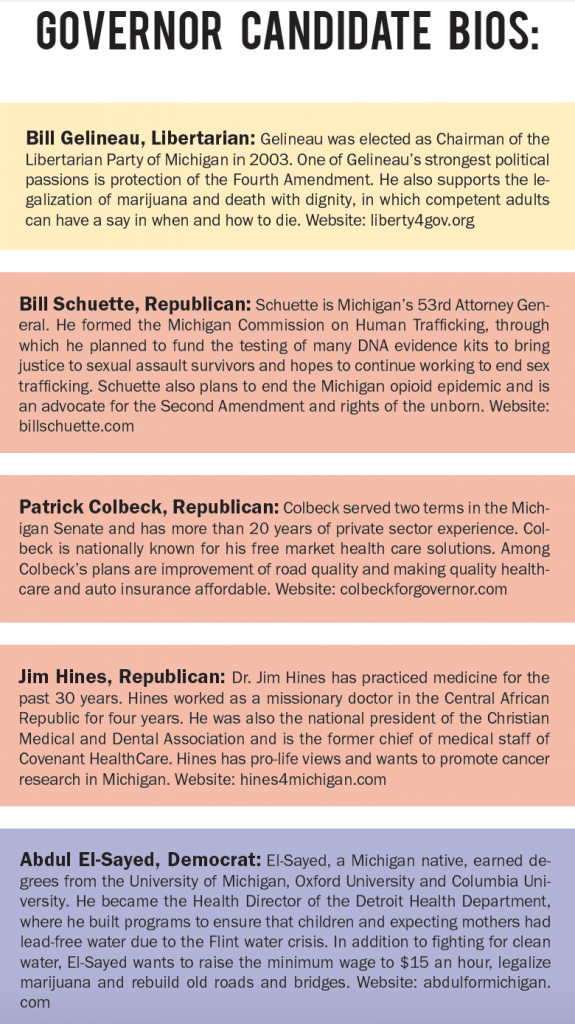 The results of the primary election this summer and the general election this fall may vastly change the current state of Michigan politics.
In 2018, Michigan residents will be voting to fill more than 180 state government positions. According to a document published by the Michigan Secretary of State, the openings range from national positions, like one U.S. Senator seat and 14 U.S. Representative seats, to state positions, such as State Senator and State Representative seats open for all districts.
The state primary election will take place Aug. 7, 2018, and the winning candidates will move onto the state general election Nov. 6, 2018.
Students vary in their participation with local and state politics. Ferris dental hygiene freshman Emily Crowley said she is not typically politically involved.
"I think it's important. I just never really know when it's happening," Crowley said.
Other students, like Ferris pre-optometry junior Amy Bell, try to stay on top of national politics but pay less attention to politics at a local level.
"My studies do not allow much time for my involvement in politics. However, I do try my best to stay on top of what is occurring at a national level," Bell said.
Bell also said she thinks more students should vote.
"I believe that Millennial involvement in elections is very important. I believe that it is a privilege and an American citizen's duty to vote," Bell said.
But perhaps the most interesting vote this upcoming year will be the gubernatorial election, in which voters will be able to choose the next governor to replace current Governor Rick Snyder.
Snyder is not eligible for reelection as he has already served two terms, but his legacy may reflect the Flint Water Crisis, according to the Detroit Free Press.
Currently, according to the 2018 Michigan Candidate Listing on the Department of State's website, there are five candidates running for Snyder's position.
Click here for more from the Torch's News section.