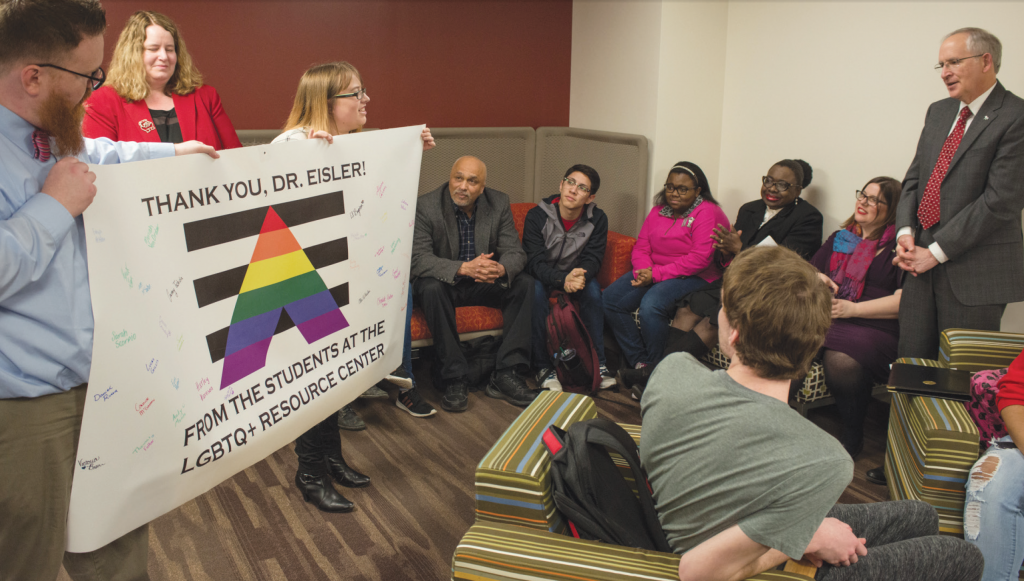 A month after the open house for the Ferris LGBTQ+ Resource Center, students of the LGBTQ+ community reflect on their experiences at Ferris.
As a bisexual transgender man, Ferris social work senior Connor McGahan has struggled in his time as a Bulldog.
"I've been hurt by the university because I've been having to advocate for myself and others in the community since I have been here. It's exhausting constantly having to educate others because Ferris doesn't value the community," McGahan said. "I have no problem educating students, however, I don't think that the university should be relying on me to be the one to educate their faculty and staff."
While McGahan did acknowledge the significance of the new LGBTQ+ Resource Center, he added that the center came too late for many of the students that needed it.
"I hope that Ferris State University understands how important the LGBTQ+ Resource Center and the Coordinator is to the university. I would hate for anyone else to feel like I've felt these past six years," McGahan said.
Lucas Gillis, a Ferris advertising and integrated marketing communications senior who identifies as a queer transgender man, also describes his time at Ferris to be tiresome.
"I have had multiple professors openly talk negatively about the LGBTQIA+ community, faculty that have continued to misgender me—even after I had legally changed my name and my gender marker on my state license—and I have had multiple issues with other students and their use of transphobic language. Although these circumstances have allowed me the opportunity to educate and advocate for my community, it is very exhausting," Gillis said.
While Gillis believes that the LGBTQ+ Resource Center was a great advancement for the university, he feels that the institution should spend more time educating the faculty and staff.
"I think a lot of folks here at Ferris are under the impression that people in the transgender community 'choose' to not identify as the gender they were assigned at birth. My gender identity as a transgender man is not a 'choice.' The only 'choice' I have ever made when it came to my gender identity was the day I officially decided that I would no longer live a lie to the outside world. I chose to be out and proud about who I am and there has never been a day that I have regretted that decision," Gillis said.
Gillis has found a great sense of community in his registered student organizations (RSOs) and other campus organizations, which have helped him to feel safe.
"At the end of the day, it is important to be kind to people no matter their age, race, ethnicity, disability, sexual orientation, gender identity and/or presentation. College is a time to surround yourself with diversity and recognize its importance in order to become a better person," Gillis said.
As a member of the Ferris volleyball team, Ferris psychology junior Katie Placek identifies as a bisexual female. Although she has never felt discriminated against on campus, she feels that the LGBTQ+ community experiences some levels of exclusion.
Placek notes that her short hair and multiple tattoos often prompt comments and questions from others. She explained that she thought Ferris could do a better job for advocating for the LGBTQ+ community.
"Fortunately, the professors and staff of the Ferris State campus that I've worked with have done a good job of being considerate of the LGBTQ+ community," Placek said. "Even with that said, it isn't rare for a professor to say 'I'm not sure if this student is a boy or a girl.' I'm really glad Ferris created the LGBTQ+ Resource Center, because a large majority of the student body and staff at Ferris State need the education that could help them better themselves as compassionate human beings."
Ferris pre-medical sophomore Gerald Murphy identifies as a gay male who has also experienced stereotypes at Ferris.
"'He's so gay so he's going to try and flirt with me or turn me gay'. That is a stereotype I feel victimized by because I don't try to make people feel uncomfortable and I would never flirt with anyone who isn't gay. There is a line that shouldn't be crossed and we know those boundaries," Murphy said.
Murphy suggested that Ferris could provide better housing for LGBTQ+ students so that all students can feel more comfortable in their living arrangements.
"I've had many encounters where someone or a group of people looked at me differently because of the way I dress, how I look or the way I walk. I try not to let their judgments affect me personally, because I will not change my personality to fit someone else's normalities," Murphy said. "I want other students to know that LGBTQ people accept you for who you are and we would like for you to accept us for who we are." Ferris television and digital media production freshman Emily Perry identifies as aromantic and asexual.
"I've been very lucky, no one's ever had an issue with it and I definitely haven't felt unsafe. I've never felt like I was endangered or anything," Perry said.
Perry says that the two LGBT advocacy RSOs on campus, D-SAGA and AEGIS, have helped form a safe and accepting environment for her on campus.
"We've worked panels with other professors and they were very supportive of us, so I've had great experiences." Perry said.
While the majority of Perry's experiences at Ferris have been very positive, Perry still mentions that small instances, such as jokes, can still be harmful.
"Just little general behaviors that aren't meant to be rude, they're just something engraved in our culture, I would say just kind of watch yourself and be really thoughtful about your words and actions," Perry said. "Guys, don't make fun of your guy friends for doing something girly or something — don't make fun of them for acting feminine like it's an issue."
Click here for more from the Torch's News section.