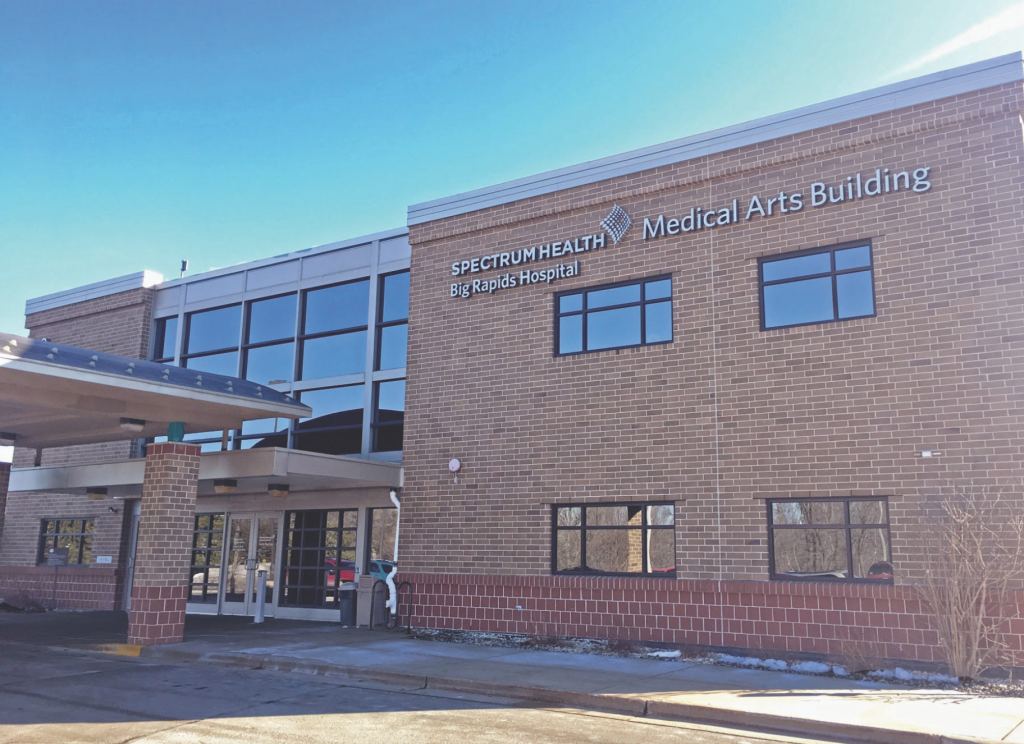 Students and Big Rapids residents now have a cheaper and more available health care option.
Spectrum Health announced in a press release that a walk-in clinic that will be located in the Medical Arts Building, 650 Linden St., which is adjacent to Big Rapids Hospital, opened April 2. The clinic will treat less serious health needs and if patients require lab work done or an x-ray, they can access those services across the street at the emergency room.
Ferris pre-pharmacy sophomore Josie Curtis said that the clinic will be nice because it provides care for those with less urgent needs that are often an inconvenience for an emergency room.
"You're taking up the physician's time when something so simple as an urgent care or a care clinic could take care of your problems so easily," Curtis said. "You're waiting with all those people who have more urgent problems than yours — not disregarding your health — but it's an inconvenience for the physician and it's an inconvenience for the patient."
The Spectrum Health staff are optimistic about the success of the clinic that will be less expensive than a visit to the emergency room.
"The walk-in clinic provides our community an affordable way to receive immediate care when patients aren't able to see their primary care doctor," hospital President Mary K. Van- Driel said. "This reduces wait times and helps patients avoid higher co-pays that come with an emergency room visit. This new access option for less serious ailments has the additional benefit of giving our emergency staff more time to focus on patients needing emergency care."
The clinic's hours will be 8 a.m. to 8 p.m., and there is a plan to add weekend hours at a later date, according to the press release. Many students said they think Big Rapids needs a clinic that is open on the weekends, including Ferris psychology freshman Bri Billman, who said that students need a more affordable option on the weekends.
Ferris social work freshman Megan Boyd agreed with Billman, as she had Bronchitis earlier this year and needed care on a weekend and had to go to the emergency room. Curtis echoed the desire for weekend hours, even if they are limited.
"It would be nice, because even though it's not that serious, I still need urgent care," Boyd said.
Students have said they are happy that the clinic has later hours, especially because of Birkam's limited hours during the week. Boyd also said what students have to do to get an appointment at Birkam is "a little outrageous" as well.
"My Mondays, I have classes from 9 a.m. to 9 p.m., so I'm hopping from one place to another," Curtis said. "It's just hard that you can't just go in. You finally get a free second that you might have not had because your class got out early or something but you still can't go in because you need to have an appointment or they'll make you wait."
Ferris Director of Health Services Lindsay Barber expressed excitement for the new urgent care.
"At Birkam Health Center, we are looking forward to the new Urgent Care Clinic by Spectrum. We feel this facility will offer our students greater access to be seen for urgent health concerns after hours when we are not available," Barber said. "It is important to remember that Birkam Health Center is not an urgent care. Urgent care centers practice medicine differently. [Birkam Health Center] is equivocal to a primary care or family medicine health center. We concentrate on each patient as a whole and make medical decisions effecting their overall healthcare for the entire life. Birkam Health Center offers services such as preventative care, wellness visits, women's health and contraception and medication management, which you are less likely to find at an urgent care center."
Click here for more from the Torch's News section.