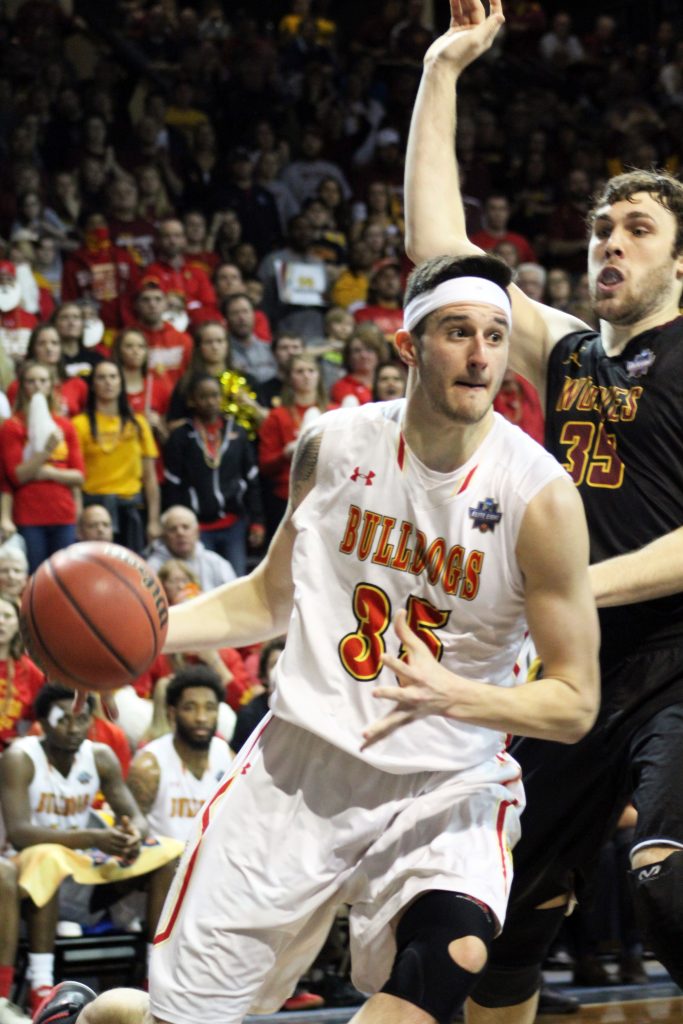 Some unexpected news took place in the Ferris athletic community on Thursday, April 5, when the campus learned that junior center of the Division II National Champion Ferris basketball team Zach Hankins is forgoing his final year as a Bulldog and will continue a grad-transfer year at Division I Xavier University.
This past season, Hankins received the National Association of Basketball Coaches
(NABC) Division II National Player of the Year award. Hankins has been apart of the FSU basketball team for the last four years.
Hankins help lead Ferris to four straight NCAA Tournament appearances, a school record 38 wins, a career record of 113-25, back-to-back Great Lakes Intercollegiate Athletic Conference (GLIAC) Regular Season Championships and four straight GLIAC Tournament Championships.
Hankins will be graduating in May with his Bachelor's degree in environmental biology, and will be enrolled in the fall at Xavier University. This is based on the NCAA graduate transfer rule.
This past season, Hankins averaged 15.1 points per game, 9.7 rebounds per game and 3.3 blocks per game. He also holds the school's all time blocks record with 319 in his career and holds the record for the highest field goal percentage in the school at 64.2 percent. In the 2016-17 campaign, Hankins became the first sophomore in the history of the GLIAC to receive the Player of the Year award.
"First off, I want to thank Coach Bronkema, Ferris State University and the Bulldog Nation for the love and support I've received these past four years," Hankins said in a press conference with Ferris athletics. "I have loved sharing all of this success with my teammates and the entire athletic community at FSU. After discussing options with my family, my coaching staff and my team, I have decided to graduate this summer and continue my education and playing career at Xavier."
While many of the students and fellow athletes may be saddened by the news, we are very thankful for the years of excitement that Hankins provided to the Ferris community on the basketball court.
"This is a unique opportunity that doesn't happen often," Head Coach Andy Bronkema said in a press conference with Ferris athletics. "We appreciate all he did to help our program grow over the past four years and look forward to following his success in the years to come."
Click here for more coverage of Ferris State basketball.