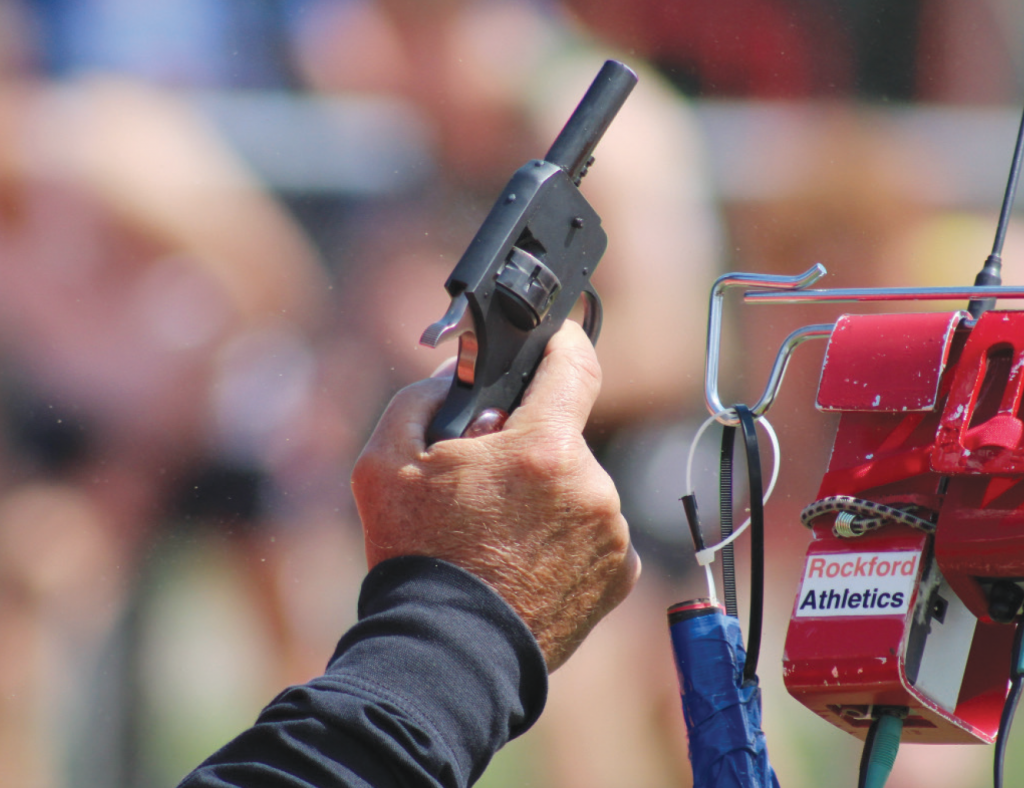 The Ferris men's and women's track & field teams began their outdoor season at the Eastern Illinois Big Blue Classic in Charleston, March 30 and 31.
The teams competed hard in Charleston, which included competition from a variety of Division I schools such as Western Michigan, Eastern Illinois University, Olivet Nazarene University and Illinois State University.
Bulldog junior Jordan Lee finished in fifth place in the women's 3,000-meter steeplechase with a time of 12:11.75 and sophomore Katie Etelamaki placed sixth in the women's 5,000-meter finishing with a time of 17:36.65.
The team also placed in the top 10 twice in the women's 800 meter. Freshman Carissa Schurr placed ninth with a time of 2:21.09 and freshman Sydney Dawes finished in 10th with 2:21.91.
The women also demonstrated their skills in the 4×800-meter relay with a total time of 9:33.00 as Dawes, Schurr, sophomore Jennifer Eaton and Etelamaki finished second overall.
"Outdoor has been a great reflection of the work we put in all winter. We've had some PRs these first two meets last weekend at Eastern Illinois and this weekend at MSU and that's always encouraging heading into April," Ferris senior Kelly Babcock said.
Both teams this season have had to practice and compete in very harsh Michigan conditions these past few weeks and has made it difficult to get good quality work in.
In a very windy, snowy environment the women continued to compete Saturday, April 7, in East Lansing at the Spartan Invite. Despite the weather, the team competed hard and put up many personal records.
Bulldog junior Sarah Utchel finished in second place in the women's 200 meters with a time of 26.75 and third in the women's 100 meters with 12.76. Bulldog freshman Britney Sheridan finished fourth in the women's 400 meters with 1:02.16 and Bulldog sophomore Salix Sampson finished in fifth with 1:02.22.
"This weekend went well considering the conditions everyone went out and performed even with the tough weather. We are all hoping that Mother Nature cooperates with us for the weekends to come," Ferris sophomore Kensington Garvey said.
In Eastern Illinois, on the men's side, Ferris junior Zach Mckenzie was runner-up in the 3,000-meter steeplechase with a time of 10:09.38. Ferris sophomore Stanley Williams finished in second in the long jump with a distance of 7.02 meters.
Bulldog senior Ross Miller also placed fourth in the hammer throw with 51.93 meters. The team would also take third place in the 4×800-meter relay with a time of 8:15.48 with a squad composed of John Alberts, Mark Jacobs, Ethan Israels and Dylan Hearns.
"I believe the team has prepared well for this year's outdoor season. These past few weeks have been a battle against the elements on some key workout run days but the guys pushed through and got quality workouts in," Ferris senior Trevor Holowaty said. "The team is starting to get acclimated to racing on the 400-meter track after indoor and the rust is starting to shake off so everyone is excited to get going on looking forward to quicker times."
For both teams it appears the season will get substantially better once the weather starts to ease out of cold months.
"It is nice to be able to get outside and race despite the weather still being a little cold. We are looking forward to warmer weather and faster races," Ferris junior Zach Mckenzie said.
In East Lansing last weekend, Mckenzie finished fifth in the men's 5000 meters with a time of 15:57.77. Hearns finished in sixth place in the men's 800 meters with 2:04.83 and Alberts placed seventh with 2:08.05.
"I think the season will go well overall. Some small things we've done through indoor and weeks leading up to outdoor and the base training and workouts will transfer well and the races will start coming together hopefully next weekend," Ferris junior Damien Halverson said.
Both teams will be back in action as they compete at the Bison Classic Saturday, April 14, in Lewisburg, Pennsylvania.
Click here for more from the Torch's Sports section.