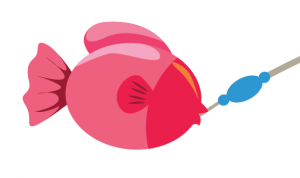 Convincing friends to do common activities in college can be a struggle for some. For the members of the Ferris Fishing Club, they have been lucky to hook some dedicated members.
"I joined the club four years ago because I found out that the team actually went to tournaments around the state and country," Ferris heating, ventilation, air conditioning and refrigeration senior Chris Oja said.
The fishing club fishes primarily for large or smallmouth bass. The goal at each tournament is to catch five bass and have the highest weighing fish or collection of fish. The advisor, Chuck Rathbun, finds out who is hosting tournaments and where they are located.
At a typical meeting, paperwork to enter tournaments is taken care of. Members discuss new ideas for the club as well as new suggestions for potential sponsors. Some of the team's current sponsors are Give 'Em a Break Michigan, Kent companies and Star Shooters of Big Rapids. Dues for the club are $200 for a year and goes towards a jersey, hoodie and tournaments.
"People should join the club if they are seriously interested in fishing and going to tournaments," Ferris welding engineering technology sophomore Bryce Canada said.
The club currently has about a dozen members according to Canada, who was recently elected to be president next year.
"I wanted to see what I could do with the club and I want to help the club get more sponsorships. I love what the club does," Canada said.
One of the member's favorite tournaments was held in Alabama last year.
"We blanked on day one, which sucked because we were tied with 66 other teams at the end of day one but at the end of day two, we had the second biggest bag at just under 24 pounds," Ferris heating ventilation air conditioning and refrigeration sophomore Brandon Nastally said.
The team only turned in fish on the second day and still managed to place 52nd out of 200 teams.
Another tournament that Canada and Oja enjoyed was the spring break trip, which was at Kentucky Lake in Tennessee. This was a trip where all the members camped together for the week.
"We do a lot of camping for our trips and camping together increases the bond between the members," Nastally said.
The tournament series that the team will be taking part in this summer is called the Fishing League Worldwide. The top prize at this tournament is a brand new $10,000 boat. Some other universities with a team at this tournament will be Central Michigan, Grand Valley, Michigan State, Western Michigan and Adrian College.
Club meetings are held on Tuesdays at 11 a.m. in UC 213.
Click here for more from the Torch's Lifestyles section.