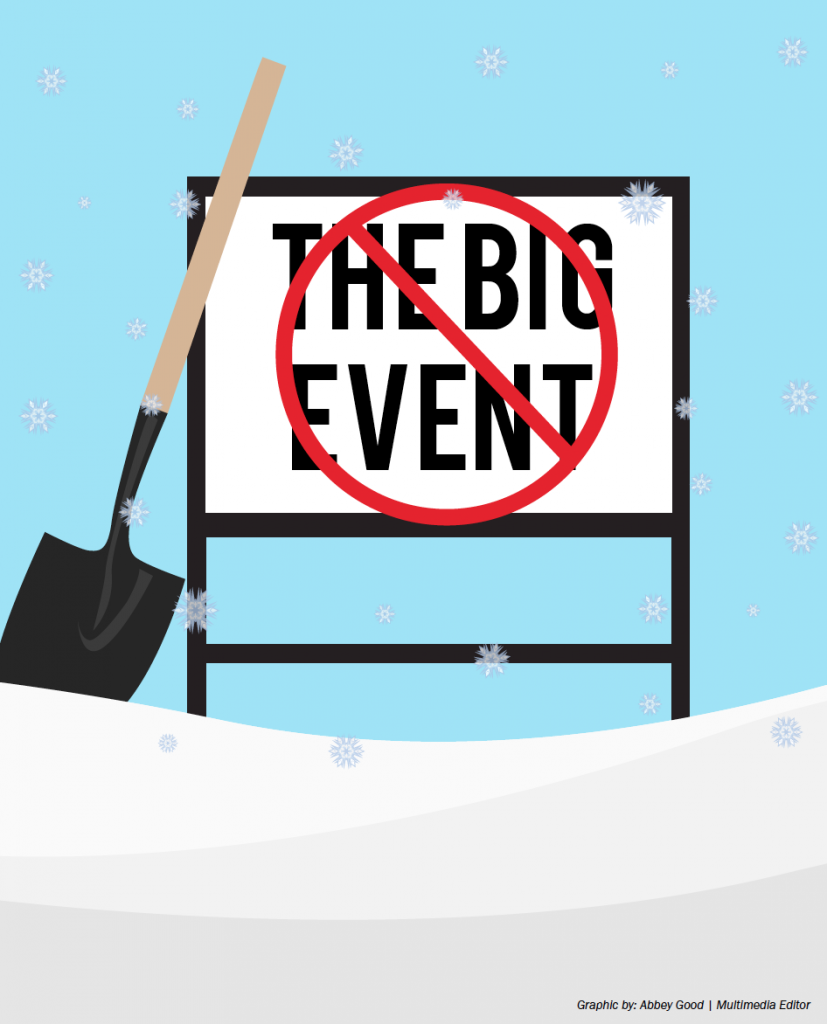 Rather than trading in their rakes for snow shovels, event coordinators decided to cancel this year's Big Event.
Weather forecasts calling for freezing rain and up to one inch of ice on the roads caused planners to cancel the Big Event for the first time since it began 11 years ago. In 2013, the event was rescheduled.
According to the 2018 Big Event director, Bryanna Harlan, rescheduling the event in 2013 lead to many issues, which factored into this year's event not being rescheduled. In 2013, volunteer numbers dropped significantly for the rescheduled date, which lead to many homes that had signed up for help being canceled.
"Our waivers are only good for the day of, as well as our risk forms for the homeowners. So we would have to get both of those forms filled out within a week's time," Harlan said. "In order for us to get all of that moved over to the following weekend—which would be the only weekend available—it would take more than a week to do. Also, we had to cancel our catering for the day of by Thursday, so trying to work out a reschedule with them would be a nightmare."
With about 1,100 volunteers signed up to work at about 300 houses, the cancellation undoubtedly had an impact on a lot of people in the community.
"I think the cancellation was definitely disappointing for community members but considering that they all live in Michigan, they understand how wildly unpredictable weather can be. After seeing the conditions, I think the vast majority of community members ultimately understood that the conditions would have made the event miserable and unsafe," Ferris applied speech communication senior and Big Event volunteer Jenna Steele said.
This year's Big Event had a budget of around $13,000 and canceling early allowed coordinators to save some of that money. Had the event been canceled on its scheduled date, coordinators would have been obligated to pay vendors. The planners also benefited by not putting the year on the shirts that were made for volunteers and they now plan to use the shirts for next year.
"Overall, lack of participation from the students is one of the bigger reasons we decided not to reschedule. We can't make a difference in these community members' lives without our volunteers' help. We received emails from more than 20 RSOs and countless phone calls asking if we are canceling on the Big Event back on Thursday when it was 60 degrees. Just seeing those emails made us think maybe they just really don't want to do it," Harlan said. "Getting students to come out is hard but we try our best. We really try hard not to be the 'Big Obligation.'"
Click here for more from the Torch's News section.