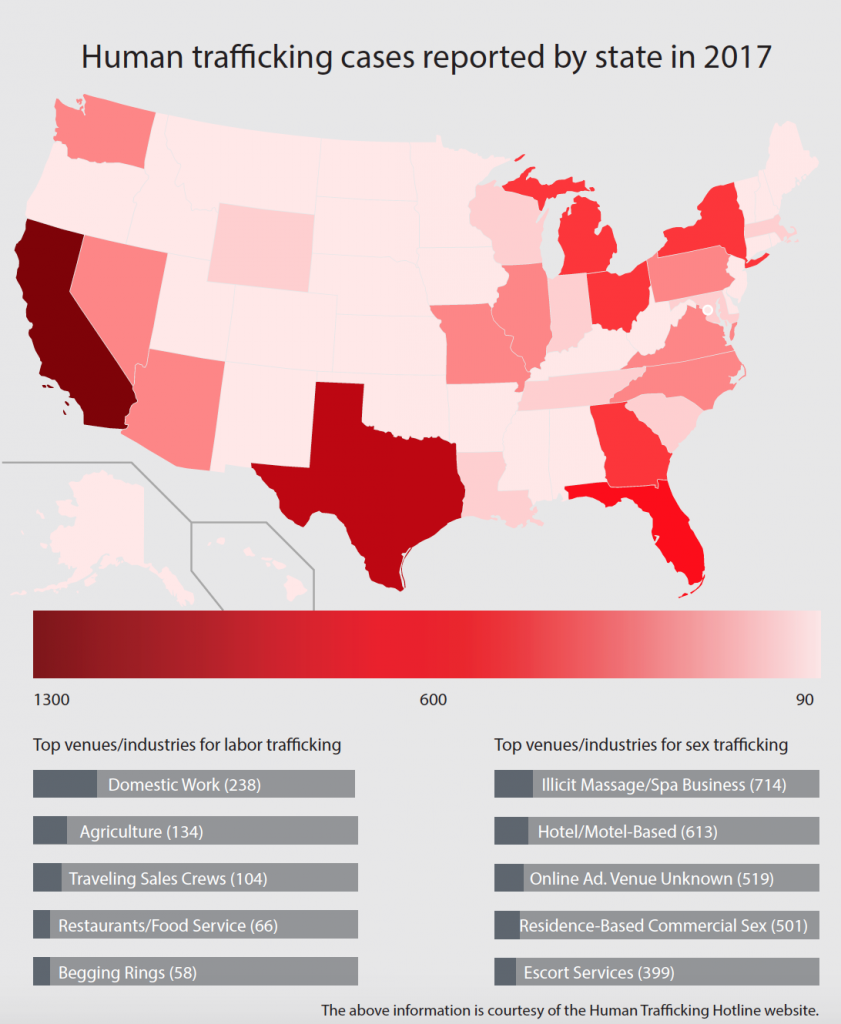 It's happening in the U.S. It's happening in our community.
Human trafficking isn't just something that happens in a remote, developing country across the globe. In 2017 alone, there were 305 human trafficking cases reported in Michigan, which was more than double the 151 cases reported in 2015 and more than four times the cases reported in 2012, according to the National Human Trafficking Hotline website.
The Michigan Department of Health and Human Services website defines human trafficking as a modern-day slavery in which traffickers profit from controlling and exploiting others by force, fraud or coercion, with many victims forced to engage in commercial sex acts or solicit labor.
"I know a lot of people of all ages don't know about this and if they think they know about it, they don't know all the facts," Ferris hospitality management senior Savannah Christensen said. "They don't know it's happening in the United States, they don't know it's happening in West Michigan, they don't know it's happening in literally everyone's community."
Christensen was the Assistant Event Coordinator for the Interprofessional Conference on Human Trafficking Awareness (ICHTA) held on campus on Monday, April 10, and Tuesday, April 11. Ferris Hospitality Management faculty and ICHTA coordinator Karyn Kiio said the event was a volunteer effort and it had personal impacts for her.
"It's a grooming process as well that happens and it's finding insecurities," Kiio said. "A trafficker finds insecurities that are cracks in the wall where they can get into the psyches of these women and men and children and break them apart and be the ear that they never had, be the place they never had to live, be the person who loves them. So we need to make people aware that this issue is bigger and deeper than they think. They think they know what this crime is—they are only scratching the surface usually."
8,524 cases of human trafficking were reported nationally in 2017, compared to the 3,272 in 2012. In 2017, Michigan had the sixth highest number of cases reported nationally.
Click here for more from the Torch's News section.