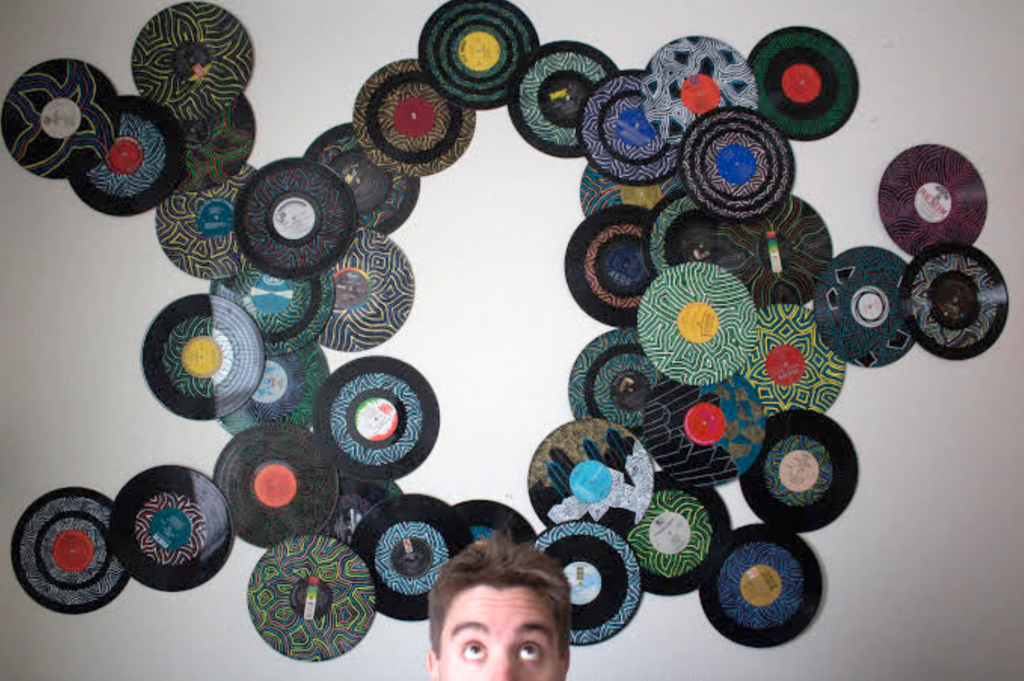 Ferris advertising senior Adam Crookston has spent his time at Ferris exploring his creativity.
Dabbling in painting custom shoes, copy writing and videography, Crookston feels that his past experiences have led him to creating The Wave—his first art gallery.
Opening Tuesday, April 24, Crookston's The Wave was painted on 450 canvases that appear to be vinyl record— with a 500-piece goal.
"The Wave is about the ups and downs of life—sort of combining life with how sound waves work," Crookston said.
Crookston compared his gallery to how sound waves react and change depending on how various notes are struck. This idea was inspired when he discovered his friends and family were impacted with change around the same time a change of energy occurred on campus.
"I've heard or noticed a lot of people on campus here have been dealing with a lot or there have been some form of change in them, whether positive or negative," Crookston said. "It can be something simple like a change of hair color or something larger like a death in the family. All these things are a part of the cycle of life, we experience them at different stages but it's kind of like their song of their life has now changed—like if a musician changed what instruments were in a song."
Crookston has been working on The Wave since summer of 2017, finding his medium at Salvation Army or in mass quantities on Ebay. "The colors originally came from album covers from the 60s, 70s and 80s that I saw on my Pandora station. I used as many colors as I could: primary, secondary—there are some that can be used under black lights, others that are more metallic," Crookston said.
Never being one to show off, Crookston looks forward to putting his work out there and influencing the students who come to visit the gallery.
"I hope this helps get students, faculty, anyone to think about what's going on in their life," Crookston said. "Do they need to change their tune or how can they fix this rhythm they might be out of? Ultimately, I hope this entertains them. I like making people happy."
Crookston will be donating a portion of sales to the Boys and Girls Club of America.
Gallery Reception
Date: Friday, April 27
Time: 5-7 p.m.
Location: Fine Art Gallery, UCB 205
The Wave
Date: Tuesday, April 24 – Friday, May 5
Location: Fine Art Gallery, UCB 205
Click here for more from the Torch's Lifestyles section.