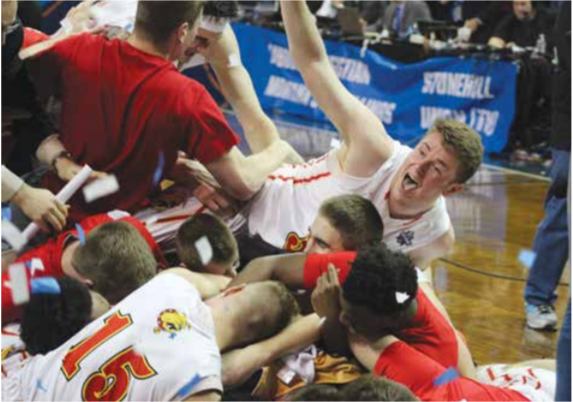 It's not a stretch to say that the 2017-18 academic year was one of the greatest in the
history of sports at Ferris.
With too many wins, trophies and individual awards to count, how could anyone ever pick
the top moments of the year?
Well, that's what I'm here to do. Here are the most significant moments in Ferris sports
over the last year.
Men's Basketball wins NCAA Division II National Championship:
The Ferris men's basketball team had a season full of firsts. The Bulldogs claimed the
program's best overall record going 38-1, posted the longest win-streak in program history
with 26 straight victories and they brought home the hardware.
The Bulldogs' 71-69 victory over Northern State University (NSU) in South Dakota was
such a tremendous moment that it even had one of the biggest moments of the season inside
it as well. It all started when junior wing Markese Mayfield went 1-2 from the free-throw
line to give the Dawgs a two-point lead in the final seconds.
NSU's Darin Peterka dribbled down court, pulled up a shot from three-point range and
watched it fall just short as time expired. Just like that, Ferris had its first National Championship
in school history.
Ferris hockey sweeps Lake Superior State to earn NCAA Division I playoff berth:
Let's not sugarcoat this: Ferris hockey had a very rough go of it this year. Finishing the
season 14-23-1, the team was unsure if their 2018 season would include post-season play.
That all changed when the final weekend of the regular-season game came around.
With Lake Superior State University heading to Jim Wink Ice Arena, the Dawgs needed
a sweep to scratch their way toward a playoff berth. Ferris junior forward Corey Mackin
must've injected ice in his veins that headed into the weekend because he outplayed everyone
on the ice.
Mackin scored three goals between the two games, with two in the Dawgs 4-1 victory on
Feb. 23 and another in their 4-2 win Feb. 24.
The Bulldogs were taken down in the first round of the playoffs by Bowling Green State
University but their hard-fought journey to the postseason is worth mentioning.