Volleyball goes deep in the playoffs: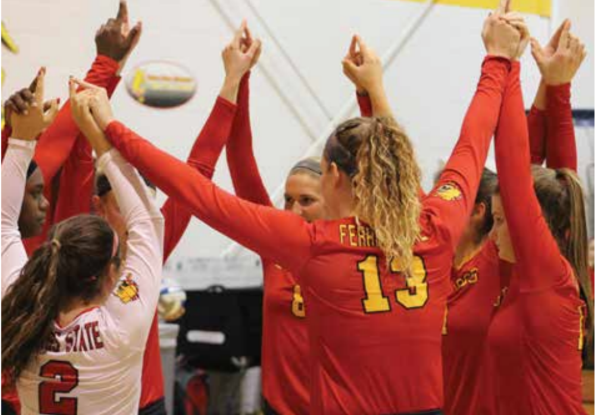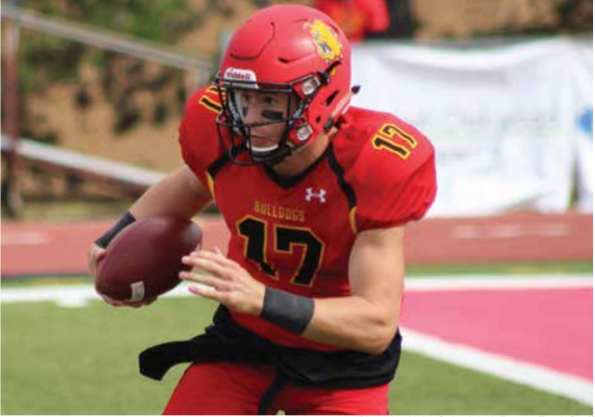 Anyone who has watched the Ferris volleyball program under head coach Tia Brandel-Wil-
helm knows that success is to be expected. The 2018 season was no different as the Bull-
dogs went 23-8 and claimed their fourth-straight GLIAC Tournament Championship.
This year was unique, however, as a veteran team guided their way through the playoffs,
making it all the way to the NCAA Division II Midwest Region Semi-Final against the Lewis
University (Ill.) Flyers.
Sophomore Allyson Cappel and her supporting cast of now-graduated seniors including
Ayanna Buckley, Laura Reminga and Maria Kronner dominated the court all season long.
Ferris football thrives on the shoulders of an unlikely hero:
Everyone loves an underDAWG and that's precisely what quarterback Travis Russell was
in his sophomore season in the crimson and gold uniform.
When star quarterback Reggie Bell went down with an ankle injury against Northern Michigan
, Russell was tossed in to take his place. After a rough outing against Ashland in Ohio,
Russell rose from the ashes and dominated through the air and on the ground.
Finishing right behind Bell in passing with 1,242 yards, Russell kept the Bulldogs relevant
in the GLIAC and led them into the postseason. Bell returned to cap off the year in the NCAA
Super 3 Regional Championship in a 16-14 loss to Harding University.
The Bulldogs finished the year 11-2 overall.
Ferris athletics had one of its best seasons in recent history and, with many more spectacular
moments not mentioned above, they seem primed for many more years of success to come.