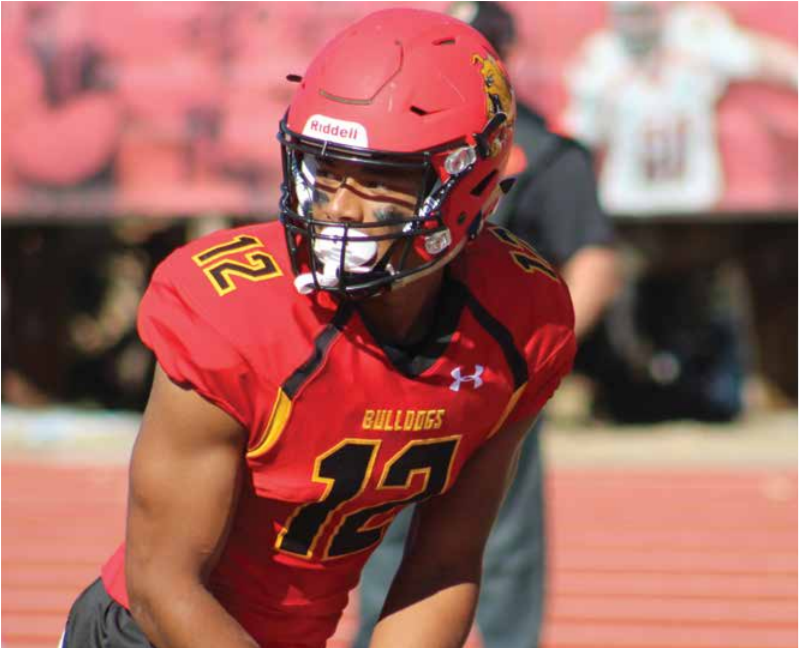 With summer coming to a close and the number of sunny days limited, students are flocking back to Ferris' campus one by one. Fall is right around the corner and while most people are thinking about sweater-weather, my mind is set on football. After another deep run in the playoffs last year, the Ferris football team is hoping to impress with another great season. The following are very strong takes that I believe will happen during the upcoming season. These are simply predictions, so please don't hold them against me if they don't come true.
1. The Bulldogs will be GLIAC champs again. Ferris has not won the GLIAC since winning it back-to-back in 2014-15. For the past two years, it has been a close competition between both Ashland and Grand Valley, but the Bulldogs came up short in 2016-17. However, this upcoming season Ferris is ranked #8 in the American Football Coaches Association (AFCA) nationwide preseason poll where Grand Valley is at #10 and Ashland at #15. I believe behind head coach Tony Annese, who is the most winningest active coach in Division II football right now, the Bulldogs will have what it takes to bring the GLIAC Champs title back to where it belongs.
2. The defense will still be a powerhouse. With big names like Zach Sieler, Chris Okoye and Tavierre Thomas going to the NFL following the 2017 season, there will be some new faces on the field this upcoming season. Since there are only a few returning starters on defense, new players have some big shoes to fill. With a new defensive unit, it can be difficult at times to be consistent and have everyone on the same page. However, Ferris' tradition of having such a strong defense, they will work out any kinks they have by the season opener and be as great as they were in previous years.
3. The offense will be strong yet again. With the departure of Reggie Bell, the question that is on everyone's mind is, "Who will be the Bulldogs' starting quarterback?" As that question is still up in the air, it seems that we will not find out until the season opener. Between Jayru Campbell, Bret Mooney and Travis Russell, I think whoever does get that starting job will ball out and have one heck of a year behind a strong Bulldog offense who averaged 423.7 yards per game last season. Another question lingering is if we will see the same up-tempo offense we have seen in previous seasons. "I think we have a lot of different weapons that can keep up with the pace we have set in the past. "Even though we might have lost some key players, I think we got a lot of people that can step up and make plays for us," Ferris wide receiver Josh Walker said. "We always have the mindset that we can continue to move forward and progress. I think Dion Earls will have a breakout year, he's always been good but this will be his first chance to really shine and step up and make big plays happen" A few players to watch for this year will be Ferris senior wide receiver Malik Taylor and Ferris senior running back Robert Thomas III. Taylor looks to have another great year coming off of the 906 yards that he totaled up in the 2017 season, while Thomas looks for more of a workload with the departure of Jahaan Brown. Thomas finished last season with 334 yards on 63 rush attempts.
4. A star will be born. One big question that we will have to find out during the season is who is going to send it and replace that great sideline dancer that was kicker Wyatt Ford? It seemed Ford brought a special vibe towards the team with his silly phrases and his impressive dance moves – which will be tough to replace – but in his absence, I believe a new star will shine and step forward as being a tone-setter for the whole squad.
5. Mark your calendars for Dec. 15. I am going to say it now because I have so much faith in both the players and the coaches: the Ferris football team will follow in the footsteps of the Ferris men's basketball team and be the second team in Ferris history to win a National Championship. I know this is a very bold take, but the Bulldogs have now been to the National Quarterfinals in back-to-back seasons, with one of those years making it to the semifinals. I believe that this year will be the year they take care of business and secure the bag. There is a long road ahead and several great teams to face along the way, but with pure grit and persistence, I believe they will achieve this remarkable
feat and become National Champions.
The Bulldogs are set to kick their season off 7:30 p.m. Thursday, Aug. 30 at Top Taggart Field as they face the East Stroudsburg Warriors in non-conference play.