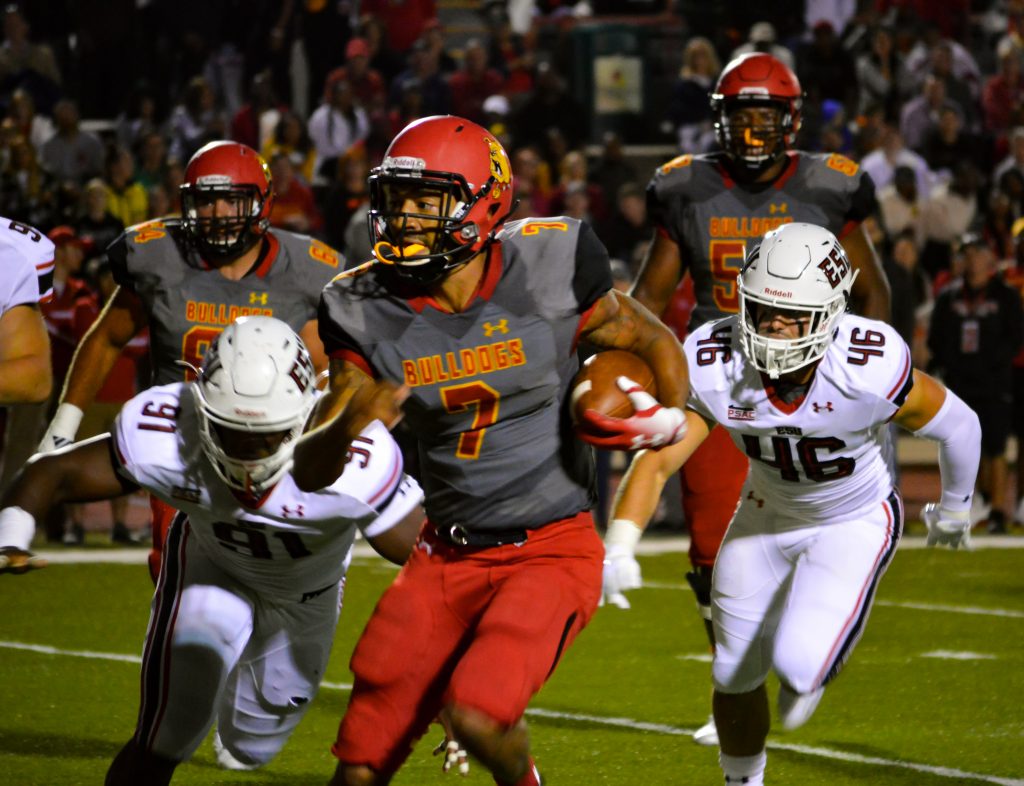 It appears the Ferris football team hasn't lost a step since losing offensive-powerhouse Reggie Bell, as the Bulldogs kicked off their 2018 season strong with a 49-17 victory over the East Stroudsburg Warriors (PA).
With Bell long gone, one question loomed: who will replace him as QB1?
Enter junior quarterback Jayru Campbell, a former Michigan State University commit and five-star prospect.
Campbell started the game off with a bang, connecting with junior slot Dion Earls for a 44-yard touchdown pass to give the Bulldogs a 7-0 lead.
That lead would only grow, as Ferris found the end-zone five more times, extending their lead to 42-3 heading into the half.
Earls ruled the first half, entering the locker room with two touchdowns and 102 yards receiving, which was nearly twice the amount of receiving yards the Warriors mustered in the first half.
The second half started off slow for the Bulldogs, with the Warriors getting on the board halfway through the third quarter.
In an attempt to regain momentum, head coach Tony Annese put in junior quarterback Travis Russell in the second half.
Russell failed to score in the third quarter but finally got the offense going again with a 46-yard carry in the first two minutes of the fourth quarter to keep the Bulldogs up 49-10.
The Bulldogs laid off the gas to finish off the Warriors and start the season 1-0.
Ferris will hope to keep the offense rolling when they return home to take on the Findlay Oilers 7 p.m. Saturday, Sept. 8.