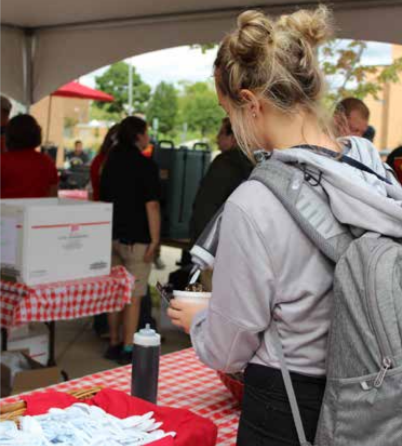 Students in search of a good time don't have to look far as the 2018 Bulldog Beginnings events kick off the school year.
The first two weeks of the semester are full of opportunities to meet new friends while enjoying free food, entertainment and prizes.
The Center for Leadership, Activities, and Career Services (CLACS) hosted Crafting at CLACS Monday, Aug. 27, which included projects, food, board games and Wii.
"I would say that this year more than any other year I'm going to try to be more involved on campus. We were just getting a coffee and
were like 'oh arts and crafts,'" Ferris human resource management senior Emily Simon said. "It's a great way to meet people for one thing and just get out of your dorm and do something. It's just something nice to do in between classes and just hang out."
Students at the event got creative by making their own string bracelets and duct tape pencil pouches, and were able to socialize with each other to ease the stress of new classes.
"I've been going to stuff since I was a freshman. I actually didn't really have many friends when I was a freshman so I thought 'might as well get to know people,' and I feel like it's a really good way for people to not only express themselves, but finding people who have the same interests as you is really cool, too," Ferris human resource management senior Kelsey McGovern said.
The activities began Friday, Aug. 24 and will continue through Saturday, Sept. 8 in order to help Bulldogs get acclimated to being at Ferris.
"You get free food, you get to meet people and you get the exercise," Ferris pre-pharmacy freshman Jacob Foucault said. "You get to walk around and see the campus."
Many students said they find the Bulldog Beginnings events helpful for meeting people.
"You get out of your room and you're meeting new people, especially if you're new," Ferris criminal justice junior Morgan Czajkowski said. "You can interact with other people and you're able to see what the school has to offer."