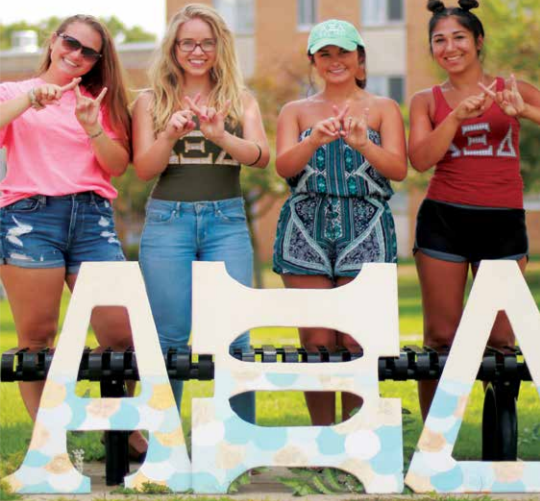 Like many other colleges, Ferris welcomes the opportunity for students to join a variety of organizations—fraternities and sororities being a popular one.
Ferris pharmacy P2 student Brooke Bennett is her chapter's president of Kappa Psi, a professional fraternity that focuses on pharmacy. Bennett joined the organization in Fall 2015, after having attended a rush event with a friend.
"Just come out to some events and give it a try. You won't fully know if a Greek organization is or is not for you until you give it a shot," Bennett said.
Ferris hospitality management senior Brandon Babcock is the current chapter president of Phi Sigma Kappa and the first of his immediate family to enter into Greek life, having joined during Fall 2016.
"I believe that you should put some thought and time into what fraternity and sorority you join. Each different organization has a different set of values, core ideas, philanthropies, etc. You will want to find the right fit for you," Babcock said.
Being a member of a Greek organization, whether it be for professional or social purposes, provides a great deal of benefits as well. Greek life has been known to help students develop a strong sense of character by providing academic support and opportunities to work within the community.
"I have gained many lifelong friends as well as a feeling of belong that has helped me come into my own and get over my social anxiety and shyness," Ferris pre-pharmacy junior and Lambda Kappa Sigma member Mia Rambo said.
Many Greek organizations also follow philanthropies in which they raise money for a cause which differ based on the fraternity or sorority.
"Phi Sigma Sigma's philanthropy (what we donate to) is the Phi Sigma Sigma Foundation, which supports school and college readiness. The Foundation is partnered with the Kids in Need Foundation, which supplies students across the nation with school supplies," Ferris hospitality management senior and Phi Sigma Sigma president Allison Jackson said.
Rush and recruitment week differs with fraternities and sororities, as each choose their own methods of recruitment.
"We like to have information tables and meetings around campus to help answer any questions and pass out applications," Ferris business administration senior and president of Delta Sigma Pi Malik Phillips said.
For more information on Greek events, visit calendar.ferris.edu.