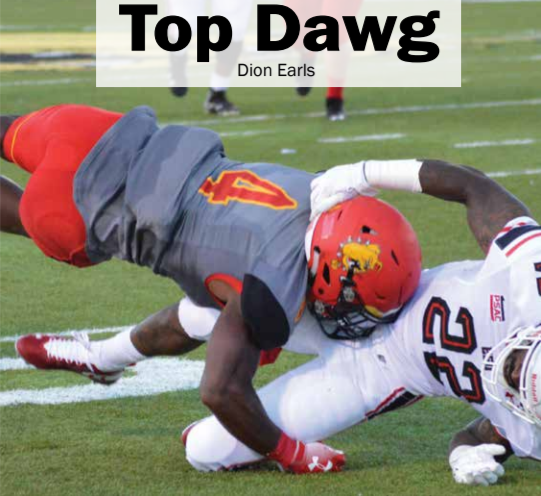 Ferris athletics had an impressive start to the season as women's volleyball went 4-0 and football had a dominating 49-17 victory over the East Stroudsburg Warriors.
With so much success, it was difficult to choose this week's Top Dawg but it has to go to Ferris junior wide receiver Dion Earls.
With all the attention focused on who would be starting under center, Earls seemed content to make plays no matter who was getting the ball to him. With some key offensive players not participating in the Thursday, Aug. 31 game due to injuries, Earls saw a heavy workload and he handled it quite well. With five receptions for 114 yards, which averages out to be an outstanding 22.8 yards per reception, Earls proved to be a significant threat for the Warriors.
Earls also brought in two touchdowns, one coming off a wide-open 44-yard pass from Ferris junior starting quarterback Jayru Campbell.
Earls looks to surpass his statistics from his sophomore season, where he finished with 195 total receiving yards. If Thursday's performance is an outlook on how he will look for the season, then it will be no problem at all.
"Jayru found me a couple of times and I feel like we just executed and made some big plays," Earls said. "It's a good start to the season, nice open win at home and practice Monday and get back to it."
Earls completed five receptions, nearly outnumbering the five other receivers that tallied up seven receptions. With such an excellent performance, it is safe to say that Earls will show out again and have more standout performances. Earls will be back in action at Top
Taggart Field again 7 p.m. Saturday, Sept. 8, where he looks to add on to his already impressive stat sheet.