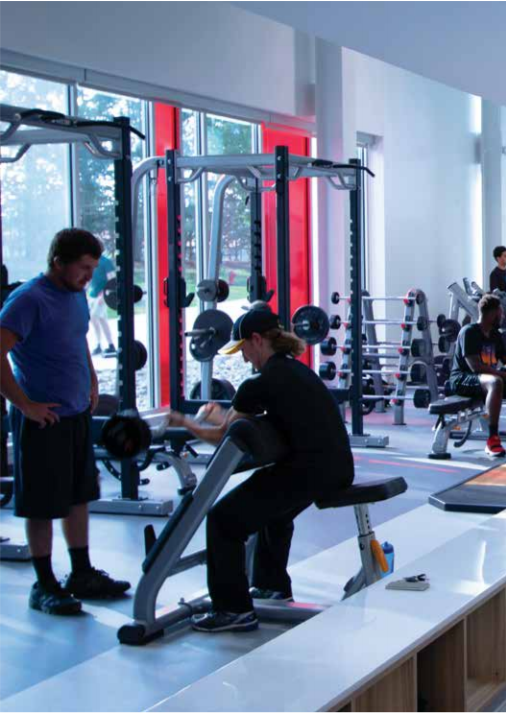 The Student Recreation Center's (Rec) annual Rec Fest was hosted on the same night as the Grand Opening of the Rec after it endured many renovations.
The festivities took place Monday, Aug. 27 and gave students an opportunity to explore the new facility, as well interact with the club sports available on campus.
"Rec Fest is an annual event that we use to promote club sports and to do a welcome back. So, we combined it with our grand opening event to really celebrate this beautiful facility," Ferris Director of University Recreation Cindy Horn said. "We wanted to hold an event that would draw as many people as possible into the facility to check it out."
According to Horn, the current Rec was redesigned, renovated and reopened in a process that took nearly two years to complete and cost a total of $6.3 million.
Some of the major changes made to the facility include a new weight room that has nearly doubled in size, a fitness mezzanine overlooking the weight room, a new lobby, new exercise equipment, the addition of a single user restroom, improved office spaces and a wellness classroom where fitness on demand classes will be available.
"One of our main ideas was to be able to find a place for everybody here at the Rec Center. So, if you are a weightlifter or if you want to practice yoga, if you want to do stretching… we would have something for you. We were very intentional about that, trying to create a lot of different places for people to tuck away and do whatever it is for them," Horn said.
Students were welcomed into the Rec with an array of food, games, prizes and inflatables.
"I'm pretty sure they do the Rec Fest every year but this one has been the best one by far," Ferris advertising senior Dani Sanchez said.
Many students who attended the event expressed their approval of the new fitness set-up.
"It's more inviting than it used to be. It makes me want to actually come here and do things," Ferris computer information technology systems sophomore Jason Binney said. "I really like the big glass windows in the front. I think that's really nice. I'd rather be staring at the nice outside than a white brick wall while I'm running."
Ferris digital animation and game design freshman Trevor Emerson was impressed with the changes.
"When I was here before it just seemed very small, I guess," Emerson said. "I visited several colleges before I visited Ferris, like Michigan and Colorado State and their Rec Centers were just massive. This is now up to par with that."