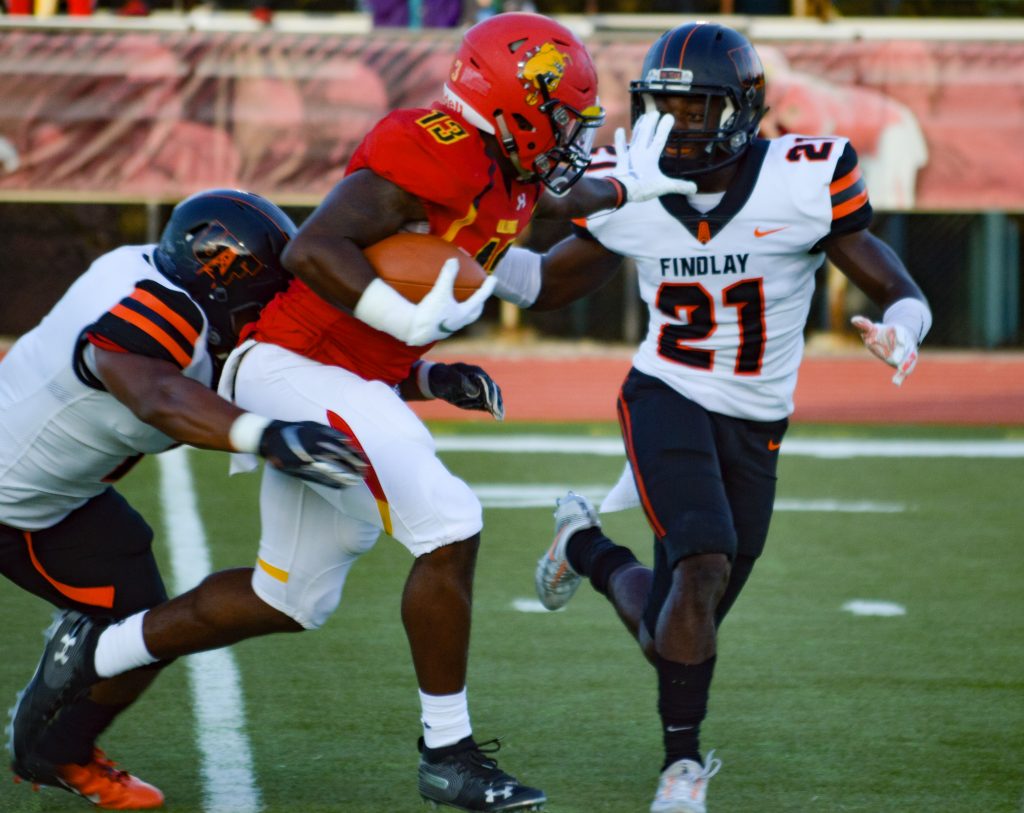 Ferris junior quarterback Jayru Campbell led the Bulldog football team to an outstanding 59-13 win Saturday, Sept. 8 over the Findlay Oilers (Ohio).
After a 49-17 win over East Stroudsburg University Aug. 30, the Bulldogs were faced with a challenging Oilers team ahead of them, who racked up 69 points in their season opener.
"I thought we contained a great quarterback successfully," Ferris football head coach Tony Annese stated. "Some things we did really well, seven for 11 on third down conversions… and eight out of eight on red-zone scores."
The Bulldogs got the ball rolling by putting themselves on the scoreboard with a pass from Campbell to senior wide receiver Keyondre Craig after a muffed Oiler punt return, and there was no stop in sight.
From there, the Bulldogs continued to hammer down on the Oilers defense, generating mostly from Campbell's athleticism, finishing the half with 70 rushing yards with one touchdown on top of his already recorded 132 passing yards with two touchdowns.
Campbell's night ended in the fourth quarter, racking up a total of 338 overall yards and five overall touchdowns.
"He's a stocky body down there and he's a hard guy to stop for no gain," Annese said about Campbell. "He's the guy that can find a lot of open spaces and do very well."
The defense gained momentum going into halftime with a late red-zone stop seconds before time ran out. Sophomore defensive back Cyntell Williams was a key part to holding the Oilers to only 13 points.
"I'm still pretty young, but I just try to lead by example just by playing. That's how I approach leadership, just lead by example," Williams said.
The offensive line is due some credit for holding their ground and protecting their quarterbacks, as they have allowed just one sack in the Bulldogs' first two contests.
"They did an amazing job, all five of them," Campbell said.
The Bulldogs are back in action 1 p.m. Saturday, Sept. 15 to face the Northwood Timberwolves in Midland.