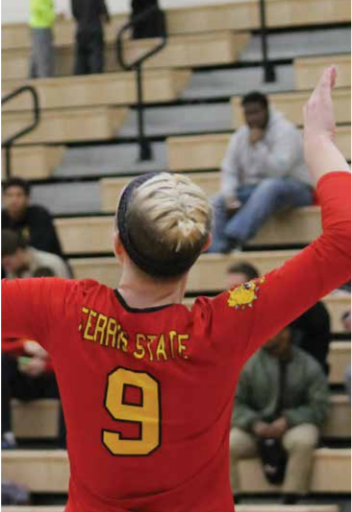 The first month of the new season is in the books for the Bulldog volleyball team and the team looks strong with a 5-3 starting record.
After coming into the season ranked No. 21 in the nation, the Bulldogs' aggressive offense and strong defense vaulted them to the No. 4 spot.
"This season definitely feels really good but I know we have things to work on," Ferris junior setter Maeve Grimes said. "If we keep that mentality up, I think we should be able to finish strong."
Grimes has been a big help to the Bulldogs this season as she leads her team in assists with 326 so far. Grimes grabbed a good chunk of those assists when the team was handed its first loss against Drury University (Missouri) Friday, Aug. 31, recording 49 of her team's 53 assists.
Ferris junior outside hitter Allyson Cappel also played strong against Drury, leading the Bulldogs in both points and kills with 17 of each.
All eight of Ferris' games have been fought in tournament play, as the Bulldogs went 4-0 in the Ferris State Invitational (Aug. 23- 25). Cappel was vital in the Invitational, as she dominated the Hillsdale Chargers by tallying 26 of her team's 77 points and adding 22 kills to the stat box.
The team then headed to Florida Friday, Aug. 31 where they played four games and came out with a 1-3 record.
With a lot of young talent, the Bulldogs will be looking to piece together a string of consecutive wins in September to set themselves up well when tournament season rolls around.
The Bulldogs will face the University of Wisconsin-Parkside (Wisconsin) in conference play at Ewigleben Sports Complex 7 p.m. Friday, Sept. 7.