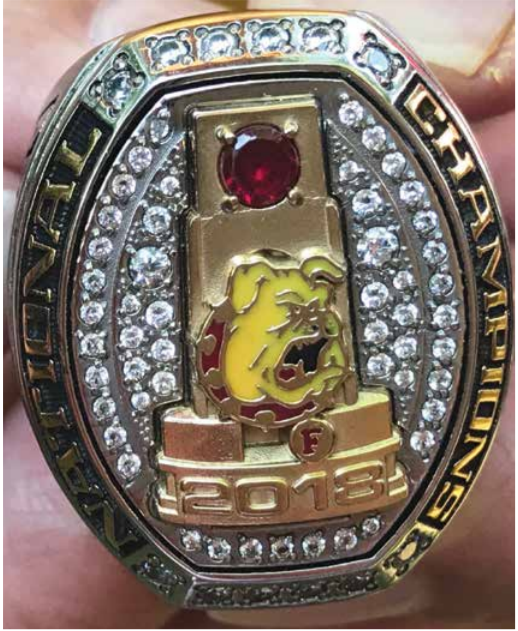 Across sports, a team's accomplishments with a conference championship or a national championship are often solidified with a ring being placed upon your finger.
A ring symbolizes the hard work, dedication, perseverance, grit and passion that went into that championship season, and the Ferris men's basketball team recently had a taste of this incredible feeling.
The 2017-18 Ferris men's basketball team received their combined 2017-18 GLIAC Championship and 2017-18 NCAA Division II National Championship rings Aug. 23. The team was given their rings in a special ceremony at the team's annual August barbeque located at head coach Andy Bronkema's house near Falcon Head Golf Course.
"I will mostly keep it to myself for now, but for special occasions I might have to bring it out," Ferris junior center Cole Walker said. "This accomplishment is at the top of my list. Everything else we did was us trying to get to that spot but we fell short and now we finally achieved it."
Last season, the Bulldogs claimed the university's first national championship title with a 71-69 win over Northern State University (Aberdeen, South Dakota) in Sioux Falls, South Dakota.
The team finished 38-1 overall in the 2017- 18 campaign, tying the all-time NCAA Division II record for most wins. The Bulldogs also claimed their fourth-straight GLIAC Tournament Championship, along with their second-straight GLIAC regular season title.
"Some guys like to wear the rings around a lot, but for me it's just kind of a special thing I have and I put it away. For special occasions I will bring it out, but it's not an everyday thing to wear in my opinion. Maybe at a big interview or a wedding," Ferris junior guard Greg Williams said.
The Bulldogs have also made four-straight appearances in the NCAA Tournament. This will be Bronkema's sixth season at the helm for the Bulldogs.
"Most of the time I will keep my ring in its case, but I guess I will wear it out for special occasions. Being in college and playing on the national level, this is definitely up there for top moments. It's hard to say if it's number one but it's definitely top two," Ferris senior guard and multi-sport athlete DeShuan Thrower said.
The team will open up at home in an exhibition match-up against Grand Rapids Community College in Jim Wink Arena 7 p.m. Friday, Oct. 19, followed by the team's annual Alumni Game 3 p.m. Sunday, Oct. 21.
The Bulldogs will then travel to Durham, North Carolina for the highly anticipated exhibition against the nationally-ranked Duke Blue Devils at Cameron Indoors Stadium 4 p.m. Saturday, Oct. 27.