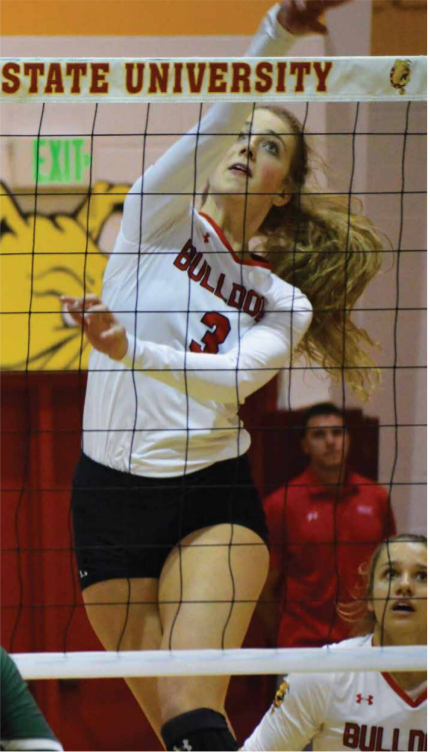 The Bulldogs opened up conference play Friday, Sept. 7 with a decisive 3-0 set win over the University of Wisconsin-Parkside Bears (Kenosha, Wisconsin). After a 5-3 start to the season, the women's volleyball team improved to 7-3 after defeating Purdue Northwest
University in three straight sets Saturday, Sept. 8, gaining momentum heading into the thick of conference play.
Over the weekend, Allyson Cappel led the Bulldogs with 23 kills over the weekend, while Mekayla Carey was a mere second with a total of 20 kills. With winning four consecutive GLIAC titles, the standard is set pretty high for the team. The program has a great tradition of winning , which exists because of the coaching from head coach Tia Brandel-Wilhelm, as well as a handful of great players that have walked through the doors. With five seniors graduating after the 2017 season and only two seniors entering the 2018 season, the Bulldogs have a young core that is eyeing to make that four consecutive titles turn into five.
"I thought everyone played well. I mean, we had some players come off the bench that have seen, you know, not a ton of time and I thought they did great," Brandel-Wilhelm said.
Losing key playmakers on the court can interfere with chemistry that is built between players. In the 2018 season, the Bulldogs must find a way where everyone's styles connect.
"I think the team is working well together, definitely, you know. This team gets along really well," Brandel-Wilhelm said. "They are very single-minded in their focus as a team…they mesh well together. They work well together." With a few games under the belt, the Bulldogs seemed to have focused on a few of their strengths.
"I think that we stayed even keeled and we didn't let the ups and downs of the game affect us." Ferris junior setter Maeve Grimes said.
Purdue Northwest is known to have a strong defense and the Bulldogs needed to have an even stronger offense to pull off the win.
"They're just such a scrappy team and they play with such great energy that you kind of have to always be just overcoming that energy factor," Brandel-Wilhelm said. "We were just really trying to stay focused on seeing what was happening over there and being in our position ready to play the ball."
The Bulldogs look to ride the wave of their great start as they travel to the upper peninsula for competitive match-ups against the Northern Michigan Wildcats 7 p.m. Friday, Sept. 14, followed by Michigan Tech 4 p.m. Saturday, Sept. 15.