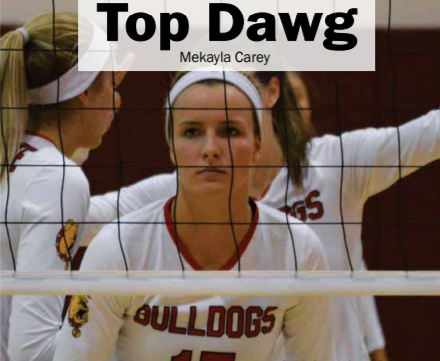 Top Dawg is heading to the volleyball court this weekend, as the Bulldogs added some tallies in the win column.
This week, the now 6-3 Bulldogs faced the Wisconsin-Parkside Rangers. Coming off of a tough loss against Tampa, it was only fair they come back with a win. The Bulldogs defeated the Rangers by winning all three sets easily, bringing their conference record to 1-0 so far.
Top Dawg this week will drop in the lap of Ferris junior middle hitter Mekayla Carey. The Morley-Stanwood native brought her talents to the Bulldogs after having a successful high school career. Carey kept her talents at Ferris, with her second year as a Bulldog bringing in a total of 100 kills and 25 total blocks on the season. Carey has quietly been bringing in points and kills over her career, but this season she has the chance to break her previous records.
Against the University of Wisconsin-Parkside Rangers (Kenosha, Wisconsin), Carey led the team in 25 total attacks and brought the team the most block assists at four. Carey is already on pace to beat last year's stats in just the nine games of the season so
far.
In the 13 matches that Carey played in the 2017 season, she ended with a total of 29 kills, 79 total attacks and 35 total points. This year, Carey has recorded 108 kills, 247 total attacks and an outstanding 133.5 points in nine matches.
Carey and the rest of the Bulldogs will be facing the Northland Timberwolves in Midland 7 p.m. Tuesday, Sept. 11 with hopes of keeping their winning streak alive.