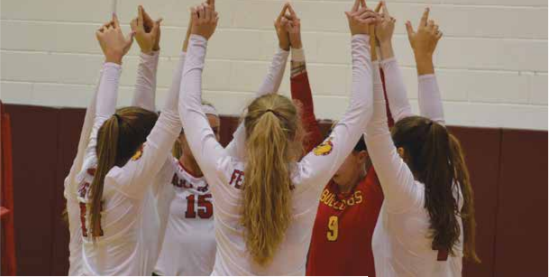 The Ferris women's volleyball team is coming off three straight road GLIAC victories from last week to help the squad remain unbeaten in conference play.
Tuesday, Sept. 11, the team defeated the Northwood Timberwolves 3-1 in Midland. Ferris junior outside hitter Courtney Brewer led the Bulldogs, as she accumulated 16 points and hit .378 overall.
The Bulldogs then traveled north Friday, Sept. 14 to take on the Northern Michigan Wildcats. Ferris dominated the Wildcats with a 3-0 sweep and once again were led by Brewer with 12 kills, a hitting percentage of .429, along with three solo blocks on the night.
The Michigan Tech Huskies would be no match for the Bulldogs Saturday, Sept. 15 as Ferris defeated them 3-1. Junior outside hitter Allyson Cappel led this game for the Bulldogs with 13 kills and 17 digs.
This year in conference play, the Bulldogs are 5-0 and have beaten those five opponents in sets with a score of 18-2. The Bulldogs are at the top of the GLIAC standings at number one.
"Our best quality is that we are 13 deep. We say that a lot this year because of that fact that we have 13 girls that at any point are able to go into the game and make a difference," Ferris junior setter Maeve Grimes said.
The Bulldogs are currently coming off four straight GLIAC Regular Season Championships and four straight GLIAC Tournament Championships.
"I think that our team doesn't dwell on the past, but we do use it to motivate us. We spend a lot of time focusing on one day at a time and one team at a time. We like to get better one percent every day," Ferris freshman outside hitter Danielle Thompson said.
Last season was the sixteenth time that the Bulldogs have won at least 20 victories under head coach Tia Brandel-Wilhelm, who has been at the helm for the Bulldogs for the last 22 seasons.
"The 2018 Bulldogs are an exciting group. We have a smaller roster size, but each person is a strong contributor to the team. This team really works to get better every day. They are willing to up the level to meet any challenge," Brandel-Wilhelm said. "The GLIAC volleyball conference is really strong this year. It will be a competitive race with five or six teams fighting for the top spot."
The Bulldogs will be back in action as the team returns home to compete against Lake Superior State noon Friday, Sept. 21