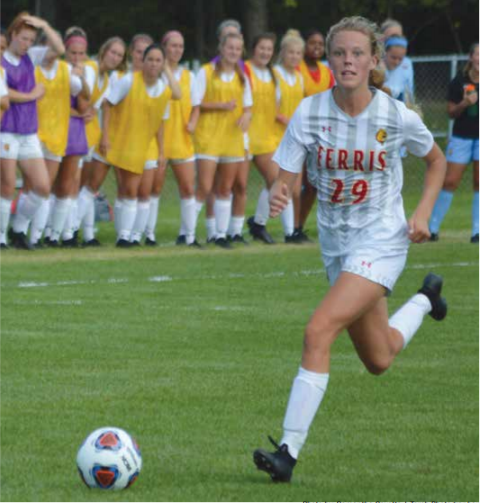 The Bulldog soccer team brought in their sixth-consecutive victory with an away game against the Davenport Panthers Sunday, Sept. 16.
The Bulldogs' first goal came 25 minutes into game time, giving them an early lead that the Panthers could not answer. That first goal was a good start for the Bulldogs as Ferris senior defender Carley Dubbert shot the ball past Davenport's goalie for her third goal of the season.
A veteran player for Ferris, Dubbert knows the Bulldogs need to keep their motivation up for the season.
"Having a winning record gives us some confidence going into the conference season. Playing well and getting good results is motivating us
as we move forward," said Dubbert.
Dubbert also had an assist, aiding a goal by Ferris sophomore forward Mackenzie Dawes in the 67th minute of play. The Panthers quickly scored a minute after the Bulldogs' second goal in hopes to make a comeback, but the Bulldogs held onto their lead tight and finished the game with a 2-1 victory. The Bulldogs played strong through a tough early schedule that has been composed of mostly road games.
"We are in a tough stretch of away games right now," Dubbert said. "We are just taking it one game at a time and focusing on what we need to do each game to be successful."
The Bulldogs have a tough slate of GLIAC opponents coming up including Michigan Tech and Ashland. Currently owning a 6-1 overall record, the Dawgs are ready for whatever is thrown their way. Hoping for their seventh straight win, the Bulldogs will head north to Houghton, Michigan 7 p.m. Friday, Sept. 21, to take on the Michigan Tech Huskies.