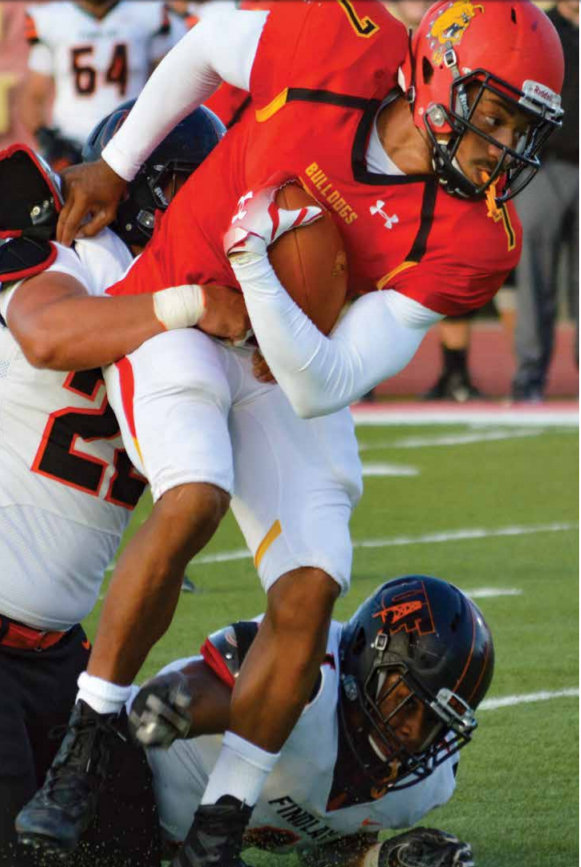 What makes a good quarterback?
Ask ten people and ten different answers will ensue. Whether it be the ability to toss the ball down field effortlessly, run the ball when needed or simply command an offense, a quarterback can be great in a variety of ways.
When Ferris junior quarterback Jayru Campbell started his career as a Bulldog, it was unclear if he would see much playing time. Now, he is starting at the quarterback position and leading the offense up and down the field with ease. Campbell spent two years of his college career as quarterback for Garden City Community College in Kansas, leading them to a junior National Championship in 2016. After sitting the bench his first year as part of the Ferris program, Campbell has made a name for himself as the Bulldogs' premier playmaker in just three starts.
In the first game this season against the East Stroudsburg Warriors, Campbell led the Bulldogs to a 49-17 victory. Having the skills to run the ball for over 100 yards and throw the ball over 200 yards, Campbell landed the Bulldogs an easy win. The next two games were no different for Campbell, as he compiled 661 yards of total offense and nine touchdowns against the Northwood Timberwolves and the Findlay Oilers.
The Bulldogs have a history of greatness at the quarterback position, with big names like Ferris alumni Reggie Bell and Jason Vander Laan manning the position in recent years. Both Bell and Vander Laan used their unique skill sets to lead Ferris to success, but according to Ferris
head coach Tony Annese, Campbell is something special.
"[Campbell] is kind of a cross between our last two quarterbacks," said Annese. "Jayru's a guy that can get some yards after contact. He's fighting for every yard… I haven't seen that since Jason. Reggie was a very elusive quarterback and Jayru has some of that with the quick release that Reggie has."
Campbell and the Bulldogs will look to continue the success that has gotten them a 3-0 start when they take on the Northern Michigan
Wildcats 4 p.m. Saturday, Sept. 22, in Marquette