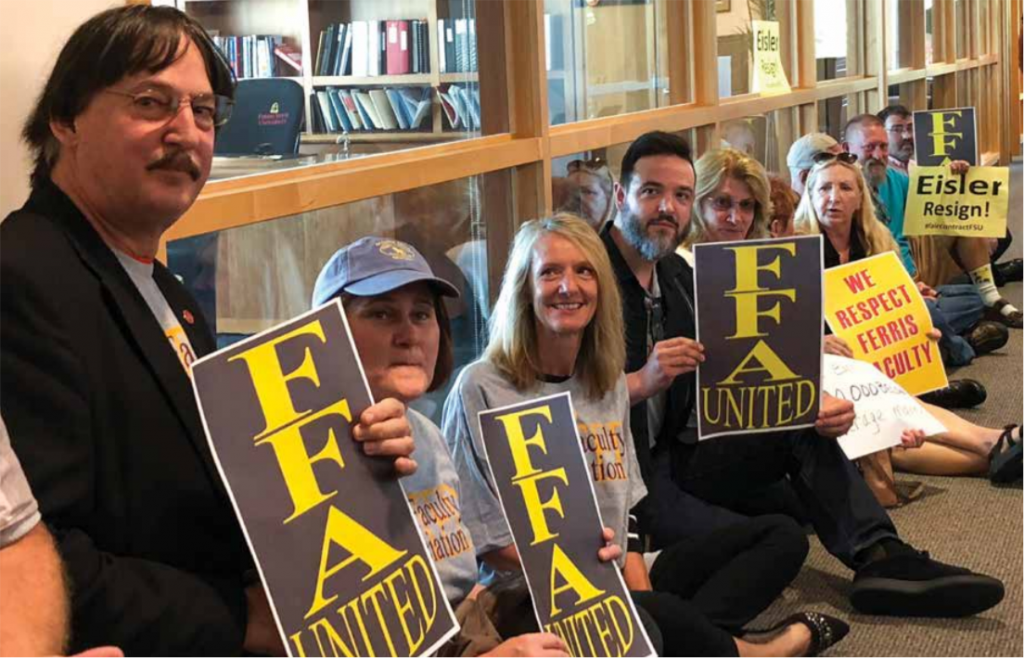 As a demonstration of their frustration, Ferris Faculty Association (FFA) members organized a sit-in and decided to hold a vote of no confidence against President David Eisler. After months of negotiations, weeks of picketing and a day of striking, 145 faculty members participated in a sit-in at Eisler's office Wednesday, Sept. 12. According to Ferris physical science professor and FFA President Charles Bacon, the FFA reached a point where they no longer have faith in Eisler.
"But that just means that we no longer have faith in his leadership," Bacon said. "He's not showing up to things: he didn't show up for the Alumni Association meeting, before the football game two weeks ago, his Founders' Day speech. It's time to show up or get out of the way."
Eisler broke his silence Monday morning in a President's Message to Campus email sent to faculty and staff. In the email, Eisler expressed his disappointment in the FFA's decision to hold a vote of no confidence against him.
"While disappointing, it is not the first time they have used this tactic toward me," Eisler said in the email. "This is unfortunate because it is a distraction for our campus, and it will create negative public impressions for our university."
The last time faculty held a no-confidence vote against Eisler was in 2007, according to MLive. Of the 417 FFA members at the time, 282 voted, with the result being 158 in favor of the resolution of no confidence and 124 opposed. Ferris English professor and FFA Vice President John Caserta was employed at Ferris during the previous no-confidence vote and said things have not improved since the vote 11 years ago.
"Nothing has changed. In fact, it's gotten worse," Caserta said. "I think the message and feeling of most of the faculty is that we don't believe he is fit to be the president of Ferris. He's shown a lack of integrity, his actions are cowardly… he seems to be hiding from the faculty."
Eisler stated in his email that it's been nearly three weeks since the last negotiation meeting and the university is prepared and ready to negotiate a contract with the FFA.
"We're willing to bargain but they have to come to the table," Bacon said. "We're really willing to meet, but don't sit there and accuse us of stalling for three weeks."
Bacon said the FFA has done Freedom of Information Act requests monthly to get the billing of the attorney hired by the university, and the number has climbed to nearly half a million dollars. The attorney's office stopped billing the university so the information couldn't be requested, according to Bacon.
"Honestly, it's probably going to be more than half a million dollars," Bacon said. "That would have been a sufficient amount of money to settle our contract. That's on Dr. Eisler. Just come to the bargaining table."
The FFA planned another sit in for Tuesday, Sept. 18. Eisler did not show up to his office during the first sit-in and was unavailable for comment. Caserta said the decision to have the no confidence vote was not taken lightly.
"We expect leadership from the president of a university in terms of our academic programs, in terms of giving the students the best community to live in and learn and get an education, and we believe Dave Eisler has failed in all these things," Caserta said. "A vote of no confidence is a message from the faculty to say, You have not done your job. You're not a leader; you're a divider and we want a leader at this university.'"
Some students were upset that Eisler did not show up to communicate with the faculty as well.
"It also says a lot about how [Eisler] feels about his staff and I think he definitely needs to address them in that setting because at the end of
the day, they all work together, they're all co-workers and I think that's wrong to abuse that amount of authority," Ferris psychology sophomore Karlina Vandenbosch said. "Not that he's a bad person, either, but you've been doing this a long time… I think for him to be taking the measures he is instead of just coming to a mutual agreement, it's just getting annoying."
Ferris communications sophomore Jordan Brinker said it seems as though Eisler "doesn't care at all."
"That says that he's a scumbag, honestly," Brinker said. "I think if I'm paying $20,000 a year to this school, I should have a president who is mature enough to handle a situation in a professional manner."
Bacon said the lack of communication between administrators and faculty has been frustrating and he would welcome conversation from the
Board of Trustees, but the faculty was turned away when they requested contact information for board members.
"It's very frustrating because we don't seem to think that our message is getting out and it goes back to valuing what we do and respecting us," Bacon said.
No more negotiation meetings have been scheduled. The fact-finding process has begun, but according to Bacon, the process could last as long as January, all while the meter continues to run on the attorney's hours.
"Every hour they're eating up more than one credit hour of tuition," Bacon said. "These attorneys are going at $500-$600 and hour."
According to Bacon, the faculty will be holding their vote of no confidence in the next couple weeks.