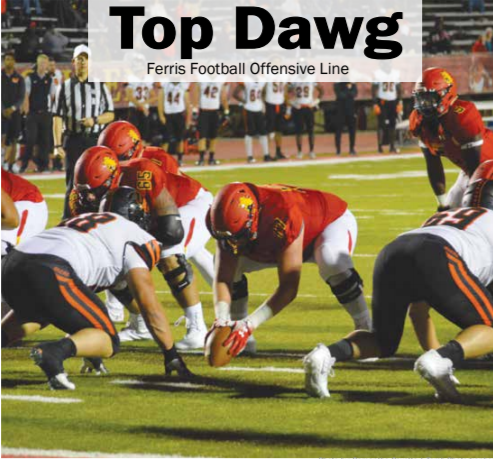 With more than 500 yards of total offense for three straight games, Ferris football's offensive line unit is due the honor of this week's Top Dawg.
The Bulldogs' starting offensive line consists of senior Devon Johnson at left tackle, junior Tyler Allison at left guard, sophomore Jake Boonstra at center, senior Nic Sawyer at right guard and sophomore Dylan Pasquali at right tackle.
When Ferris' defense forces a three and out, it does not give the offensive line much of a break on the sideline, and then they have to go out and perform at a top tier level to get the yardage and to put up 40-plus points per game.
The offensive line is very important when you have weapons like Ferris junior quarterback Jayru Campbell and Ferris senior running back Derrick Portis rushing all over the place. Getting the right block off every play and creating those holes for players to go through may go unnoticed, but it definitely has a great effect on how the team performs as a whole.
When Ferris is passing the ball, the o-line has to make sure the quarterback has enough time in the pocket to see the field and make a pass down the field. It is also important to keep the defense from sacking the quarterback or having the defense rush and force him to make a poor throw, which could result in an interception.
It's not easy being an offensive lineman. Playing every snap and being in a two point or three-point stance can put a toll on your body. However, these players put in the work, day in and day out, to keep their quarterback safe and make sure the team can get the win.
The Ferris football team will head up to Marquette to face the Northern Michigan Wildcats 4 p.m. Saturday, Sept. 22.