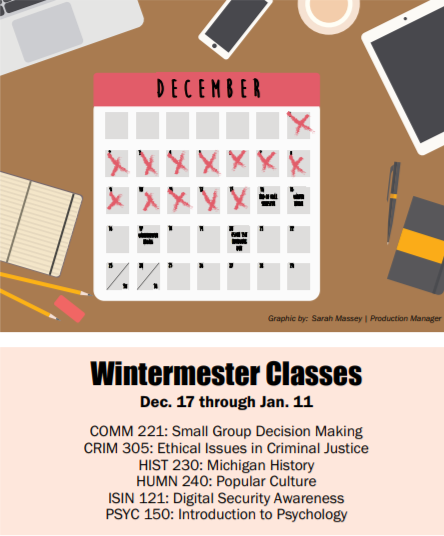 For students looking to get ahead, online courses will be offered over winter break beginning this school year.
The Wintermester is an expedited online course opportunity that begins Dec. 17 and concludes Jan. 11. In just under one month, students can earn full credit for one of several general education classes.
"If someone is trying to get ahead with a gen-ed course or something like that, it's a great opportunity to kind of catch up with whatever's
going on," Ferris Dean of Extended and International Operations Dr. Steve Reifert said.
Six classes will be offered, with the topics ranging from communications to history to psychology. However, Reifert said some of the courses will be hard for underclassmen to get into, as availability is limited.
"One of the courses—Introduction to Psychology—that's hard to get in," Reifert said. "If you're a freshman, it's difficult to get in. We just kind of picked these courses, along with the faculty that are interested in teaching it, that are going to support what the students want."
Registration began at the beginning of the current fall semester and will be available until the semester is finished. Fall or winter financial aid can be applied toward the Wintermester courses and students can access the course information and register online at MyFSU.
"If you're trying to get ahead, you really can't do 16 to 18 hours during the semester, but you know you're not doing anything over break. Let's get another three-hour class in there, and now we've jumpstarted. We're that much farther ahead," Reifert said.
Many students said they are curious about the new opportunity and are eager to meet the challenge of a heavy workload over break.
"I know I would want to look into more information about it," Ferris education freshman Vanessa Garcia said. "I feel like they should spread the word more."
Ferris criminal justice sophomore Nina Swanson said that the Wintermester is a good way for students to stay on track.
"It will be very helpful for those who are behind in classes and want to graduate on time," Swanson said.
After receiving feedback from students who have enrolled in Wintermester classes, administrators hope to continue offering more class selections over break in the future.
"We've got excellent faculty that are very creative on this and interested in trying something like this," Reifert said.