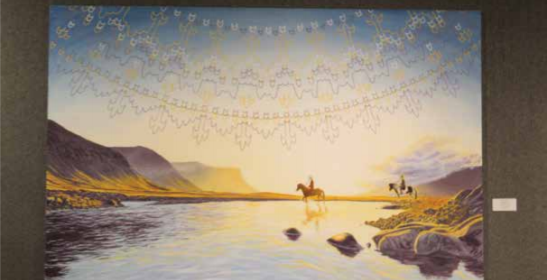 "Mystical" is one word Ferris gallery director Carrie Weis used when describing the latest exhibit brought to the University Center.
"I curated this exhibition in collaboration and support of Artworks, who is bringing the Smithsonian Waterways traveling exhibit to Big Rapids," Weis said.
The H2O Exhibit is focused around honoring water in all its forms while featuring three artists: Loralee Grace, Randall Tipton and Tom Tomasek. Though Tomasek was unavailable for an interview, Grace and Tipton were able to share their experiences with this exhibit.
"My personal favorite piece in this exhibit is Loralee Grace's 'Midnight Sun.' Firstly, I enjoy the uniqueness of her work, but I also enjoy the way the piece makes you wonder about the scene and the two figures on horseback pictured," Ferris pre-veterinary second year Kaylee Wieghmink said.
Wieghmink has helped with the exhibit and can be seen manning the front desk during gallery hours. Though this is her first time being a part of an exhibit, she considers it a success and enjoys the variation and contrasts the artist's display.
"I've shown my work in several galleries and spaces, primarily around Grand Rapids, Chicago, Iceland and Wellington, New Zealand," Grace said.
Grace is a 2010 graduate from Kendall College of Art and Design who enjoys freelancing and visiting other countries when she can. Being able to see the world after dreaming of doing so in college encouraged Grace to inspire students who consider the same future.
"I love to inspire people back home to get out and explore the world. If you're interested in traveling but afraid you can't afford it, you're in for a nice surprise. Traveling abroad, especially in certain countries, is more affordable than living a normal life here," Grace said.
This is Grace and Tipton's first time having their work shown in the University Center's gallery.
"I like Randall David Tipton for his loose painterly style. I like Loralee Grace for her inclusion of cultural influences from her travels in each piece. And I like Tom Tomasek's style for his mastery of the landscape genre," Weis said.
Tipton, an artist from Oregon, was unable to meet the other artists working on the exhibit but was honored when Weis invited him to show his own work.
"I've been in many exhibits. This one is more like what happens in a museum show. Though the work is for sale, that is not the purpose of the exhibit. My paintings are there in support of the theme," Tipton said.
Having completed one year of college and one semester at a craft's school, Tipton has always known he wanted to pursue a career in art, and because of this, has some advice for students who desire a similar future.
"To anyone choosing to make a life of art, think hard about why. What do you want to say? This is far more important than technique," Tipton said.
The H2O Exhibit ends Saturday, Oct. 13 and can be found in the Fine Art Gallery in UCB 205. For more information, visit ferris.edu/gallery