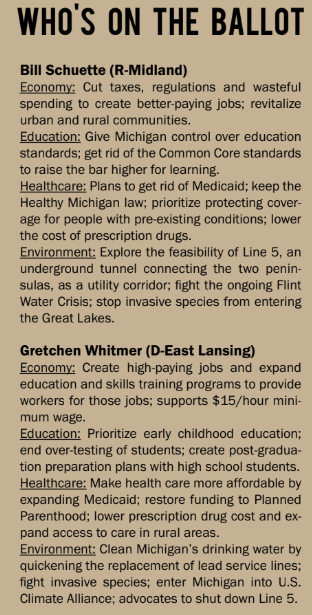 With the polls opening in November for this year's election, it's time for students to start deciding who and what they will vote for.
This year is a Gubernatorial election year, which means that Michigan will be electing a new governor. There are six candidates on the ballot from the Republican, Democrat, Libertarian, U.S. Taxpayers, Green and Natural Law parties.
Bill Schuette, who is currently the attorney general for the State of Michigan, is a strong conservative running with the Republican Party. Schuette is pro-life, supports Second Amendment rights and has taken strong stands against human trafficking and sexual assault as attorney general.
Gretchen Whitmer is running with the Democratic Party and was a member of the Michigan House of Representatives from 2001-06 and was on the Michigan Senate from 2006-15. Whitmer has taken a strong position for women's rights, LGBTQ+ rights and ending urban poverty during her campaign.
A full list of candidates can be found on the Michigan Voter Information Center website, along with links to each candidate's website where students can read more extensively about the candidates' plans.
State-wide proposals on the ballot this November include legalizing marijuana, establishing an independent citizen redistricting commission and amending the voting rights policy. Proposal One would legalize the possession, use and cultivation of marijuana by individuals 21 years of age and older, and commercial sales through state-licensed retailers. Individuals over the age of 21 will be able to have 10 ounces kept at residences and up to 12 plants for growing for personal consumption. It will also create a state licensing system for businesses and allow municipalities to ban or restrict them.
Proposal Two would allow a commission of 13 registered voters randomly selected by the Secretary of State to have exclusive authority to adopt district boundaries for the Michigan Senate, Michigan House of Representatives and U.S. Congress every 10 years.
Proposal Three would authorize automatic and Election Day voter registration, no-reason absentee voting and straight ticket voting. Citizens will automatically be registered to vote when applying for, updating or renewing a driver's license or state-issued ID, unless the person de-
clines. It will also allow voters to obtain an absent voter ballot without providing a reason.
County and city proposal will vary per student. The ballot for your voting precinct can be accessed on the Michigan Voter Information Center website.